Laminate. When you hear that word as a homeowner, certain thoughts pop into your mind. Whether you've had experience with it or not, chances are you've formed an opinion about it.
Laminate flooring has only been around for a few decades. Like other home products, laminate flooring was created after a century-old company's sales began waning, and they looked for other ideas to bring to market. The Perstorp Corporation created the first high-pressure laminate in the late 1970s, and the rest, as they say, is history.
The industry continued to morph and change, increasing strength, durability, and attractiveness. In 1994, Pergo launched its first marketing campaign in the United States, adding its click-and-lock technology as well as more sound insulation by 2000.
How today's laminate is made
Today's laminate flooring is a hard surface floor that offers homeowners versatility, durability, and aesthetics to match any decor. People love hardwood. Yet hardwood isn't always the perfect choice. Laminate is a flooring product meant to give homeowners the look and feel of hardwood, yet provide a few things that hardwood can't.
Laminate flooring consists of multiple layers, including:
Top layer – a clear coat of extremely durable resin and cellulose designed to give the product strength while increasing the natural beauty of the visual layer
Visual layer – a high-resolution photographic image used to replicate the texture and style of hardwood
Core layer – a high-density fiberboard that helps provide stability and water resistance
Bottom layer – a melamine back layer that provides a foundation for the laminate planks and increases its water resistance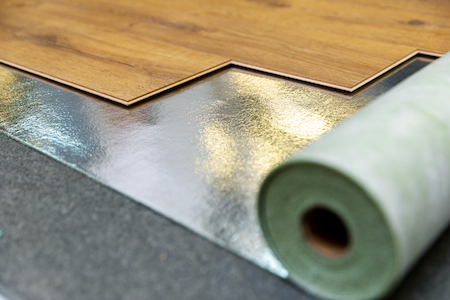 When many people recall the laminate of yesteryear, they think of the hollowness sounds created once it was laid into place. It didn't have the warmth of hardwood; instead, a hollow sound echoed as you walked across the floor.
Laminate has changed drastically over the years. A part of that is due to the underlayment that is laid into place underneath the laminate flooring of your choice.
What is underlayment?
Underlayment sits below laminate flooring. It's created from a composite of filaments and fibers, laid together with a vapor barrier on top. These layers are designed to insulate the floor and make it warmer, protect the flooring from moisture, mold and mildew, as well as reduce the clicking noise that is commonly associated with laminate flooring.
Underlayment is a layer between the subfloor and the laminate flooring. It covers up the imperfections in the subfloor, giving the laminate more strength and durability. In some cases, laminate comes with underlayment already attached. Check with the laminate you select to see how it was produced.
However, if the laminate doesn't have underlayment, or you simply want additional support, you might choose to consider purchasing and installing an additional product. There's a lot to consider when making your final selection. With several different choices, which is the right product for your home?
Start with your subfloor – it's what matters most
There are several different types of underlayment created for use with laminate flooring. The best way to determine which underlayment is suitable for your situation is to start with your subfloor.
The two most common subfloors in homes are cement and wood. They each have unique situations when laying flooring over the top.
Wood subfloors provide strength and durability underneath your flooring. It may be a little uneven or even creak from small separations between the boards, depending on the age. Underlayment should complement laying laminate over wood, and provide more benefit to handle well with age. Moving up and getting premium underlayment can increase softness and cushion, as well as provide a stronger moisture barrier.
Cement subfloors provide an additional set of concerns. Cement subfloors present a greater chance of moisture problems. That's why it's important to install an underlayment that has a vapor barrier attached. Vapor underlayments protect your laminate flooring from any moisture that could seep up through the cement, and potentially cause floor problems.
While most people spend time looking and finding the perfect flooring to suit their needs and decor, it's the underlayment and subfloor that set the stage for success. Without a proper subfloor and underlayment combination, the wear and stability of whatever floor you put in may have problems shortly after installation.
Three types of underlayment
In general, there are three different types of underlayment: foam, cork, and felt.
Foam is the most basic format. Foam underlayment comes in a variety of thicknesses, and comes in rolls of varying widths and lengths. Because it's the most popular choice, you'll find the best selection of products to complement your laminate flooring.  Many foam underlayments come with a moisture/vapor barrier already in place. It's also one of the easiest to install, even for people who are new to laying underlayment into place.
Cork provides a natural product that's made from the bark of a cork tree. It's available in several thickness levels, and offers a natural moisture barrier. One of the biggest reasons people select cork underlayment is because of its natural sound absorbency. If you're installing laminate in an upper floor room or space, a cork underlayment makes an excellent choice for absorbing footsteps. It's sustainable, economically sound, and offers hypoallergenic properties to people wanting cleaner living space. Its antimicrobial nature also prevents the growth of bacteria, mold and mildew.
Felt is considered the premium choice in underlayment. It's made from recycled fibers, and is significantly heavier and easier to smooth into place. This heaviness of the felt material gives it excellent sound absorption. It can muffle the sound of footsteps, and create a quieter environment. Felt also works well to add insulation to your home. If you're worried about heating and cooling, felt can make your floors feel warmer.
What's the best underlayment for the laminate you've chosen?
Different laminate manufacturers suggest different types of underlayment.
Now that you're aware there's more to installing laminate than simply selecting color and style, come in and ask questions about creating your perfect living space. There's a combination of laminate and underlayment that will help you create the home of your dreams.