Have you ever slipped, tripped, or fallen to the ground because of something in your path?
According to the National Safety Council, falling is the second-leading cause of unintentional injury-related death, with over 42,000 people dying in 2020 at home and at work.
While work environments have their own safety rules, if you're redesigning a room, safety may be a factor. Maybe you're trying to create an environment where mom has less risk of slipping, or where the surface area reduces the impact of a fall.
Two step process
There are two aspects to creating a living environment that prevents slips and falls.
First, find flooring that reduces the chances of slipping. If you've ever walked across a slippery tile and felt your feet slide across the surface, you know how dangerous it can be. Slipping can be a big problem at any point in life, but especially as you age. The risk of injury escalates.
Second, find flooring that softens a fall if it happens. Concrete is a hard surface that can cause damage if you land on it. Carpet provides a soft surface that softens the blow.
Of course, there are many types of flooring in between. The American National Standards Institute has created a Test Method for Measuring Coefficient of Friction of Hard Surface Flooring Materials. It evaluates flooring based on five categories:
Interior, Dry
Interior, Wet
Interior, Wet Plus
Exterior, Wet
Oils and Greases
Using these categories as a guide, you can find flooring choices rated effective in whatever room you're considering. It can help you make smarter choices for the flooring you choose.
Flooring choices to avoid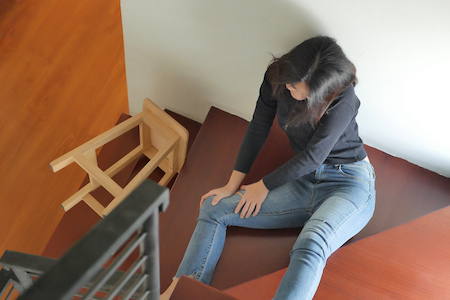 When you consider the best flooring to install to avoid slips and falls, sometimes it's easier to start with floors you should avoid. This is especially true if a senior lives alone and help may not be readily available.
The key is to make any surface area as risk-free as possible. That means avoiding tripping hazards that can cause someone to trip. Be especially conscious of transitions between different types of flooring, or as you move from room to room.
Area rugs should be avoided. The height difference could be challenging for some individuals. The material could shift and move as they walk across it.
Hard surfaces can be more challenging when a fall occurs. Concrete has zero give when a person lands on it. Stone tile is similar, with hard surfaces that can cause extensive damage after a fall. Polished stone adds a smoother surface area that can be more conducive to slipping, especially when wet. Ceramic and porcelain tiles look great and have many patterns and styles, but their slippery surface can be dangerous when wet. Wide grout tracks can add unevenness to a floor, and increase susceptibility to tripping.
Carpet makes a great choice
There's a reason carpet is still a popular choice in homes across the country. It's one of the best forms of flooring for both avoiding slipping hazards as well as cushioning a fall.
When selecting carpet, the key is selecting the right choice for easy walkability. This isn't the time to look for a plush shag you can dig your toes into. That can work against shuffling feet, and prevent walkers or wheelchairs from having easy access.
Move to a short pile with a sturdy surface area. Padding is equally important as the carpet itself; it provides a base for keeping the carpet sturdy and in place.
A professional installer will ensure a tight, wrinkle-free material that will give you great wearability for years to come. Be sure to avoid clutter, vacuum regularly to pick up dirt and debris, as well as keeping allergens down to not exacerbate existing health problems.
Cork works well in living space
Cork is growing in popularity because of its functionality and good looks. Unlike stone, tile, or even hardwood, cork has a natural give to it that's softer to the touch. It makes it easier to stand on for any length of time, and provides a softer surface for both walking and sitting on.
The softer surface area can be a problem with pet nails or hard, sharp objects. Talk with a flooring consultant before deciding on cork if you're leaning in that direction. They can help you find the right product to suit your needs.
It's both sustainable and hypoallergenic. Cork comes from the cork tree, and is harvested by removing the bark at maturity. It doesn't kill the tree, but leaves it to continue reproducing bark to be harvested again.
Cork is also an all natural product that doesn't collect pollen, mildew, or other contaminants known to increase allergies. It makes an excellent choice for helping to keep a clean home.
Luxury vinyl is a great choice
If you've been looking at new flooring for any length of time, it's hard not to take a second look at luxury vinyl. That's because manufacturers have taken what people love about other types of flooring such as hardwood and stone, and put it into an amazing product that works well in situations where hardwood and stone don't.
Luxury vinyl comes in both tile and plank formats designed to look like other flooring choices you love. Luxury vinyl planks mimic hardwood, and come in a multitude of styles, colors, and patterns. Luxury vinyl tiles can look like natural stone, porcelain tile, or even marble or granite.
Yet the surface area is soft and smooth, with a little give as you walk across it. It might not have the same give as cork or even rubber, but it can be a great alternative, and provides a well-rounded option for both aesthetics and functionality.
Luxury vinyl is also budget-friendly, durable, and easy to maintain. You'll never worry about leaving a mess behind with luxury vinyl in place. Simply wipe it up and you'll be back to enjoying life.
What's the right flooring choice for you?
If you're in the market for new flooring to help reduce slips and falls, any of these choices can make a great addition to your home.
What's the best choice for you? Stop by and compare them all. We'll help you choose the perfect flooring material to suit your needs.