Colorado is a great place to live. But we don't have to tell you that. And by the looks of the latest population poll, many newbies would agree with you too.
Colorado is listed as one of the top ten fastest growing states. Officials estimate it's increased by more than 13 percent, landing somewhere around 5.7 million people.
At the same time, Colorado real estate has jumped from a median $215,000 to $364,000. Rents have increased from $928 to $1,427 per month, on average. Both of these facts have created a viable business opportunity of buying homes and turning them into rental properties.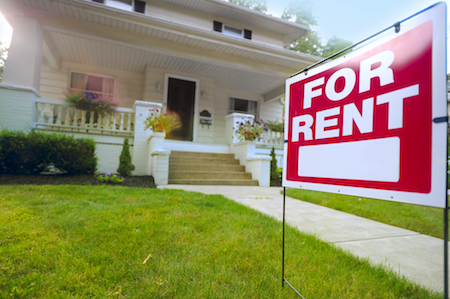 Yet rental properties aren't as easy to furnish as if you're fixing and flipping. Rental properties traditionally are not as well cared for as when you own. Therefore, a lot of landlords strive to find affordable features renters will love, with easy to care for, easy to maintain fixtures that help increase their profits.
One of the first places to start is at the bottom – with your floors. This is where you build your base, so it's important to select the best flooring for your rental properties that meets all of the qualifications.
Where do you begin?
Affordable
We know most landlords start and end with cost. It's one of the most important considerations when trying to maximize your profits every time you rent.
When it comes to flooring, you should weigh your decision based on three things: the cost of the flooring, the cost of installation, and the cost of maintenance. People often look solely at the cost of the product without thinking about the other two; that's the quickest way to lose money. When considering maintenance costs, look at how much it will cost you to repair the flooring while the tenant is living there, as well as costs to keep it looking good throughout the life of the product.
Some of the best flooring choices for rental properties include:
Tile
Laminate
Linoleum
Vinyl sheets
Vinyl tiles
Durable
Think about all a flooring material will have to endure. Daily routines – foot traffic, tracking in water and snow, pet messes, spills, dents, scratches, and more – can all cause a lot of wear and tear on flooring. While it should be durable enough to continue to look good throughout a tenant's lease period, if you make the right choice, it can be durable enough to last through two or three.
The most durable flooring properties include:
Laminate
Linoleum
Vinyl sheets
Vinyl tiles
Maintenance
One of your worst nightmares as a landlord is to be in repair-mode throughout the lease period. That's where striking a balance between quality products and ensuring they're affordable comes into play.
While replacing a dishwasher involves a small area in the home, flooring is a little more difficult. If you have to replace it, it may require your tenant to remove all furniture before the installation can begin. That means you can only maintain in between tenants, or be flexible with the compensation you give to your tenants for inconvenience.
If you want to select the best flooring for your rental properties that require low maintenance, choose:
Carpet
Engineered hardwood
Laminate
Linoleum
Vinyl sheets
Vinyl tiles
Convenience
When a new tenant moves in, they rarely think about the floors. Sure, it has to look good for them to sign a contract in the first place. But beyond that, they want an easy lifestyle that doesn't involve a lot of cleaning around the house.
Whether they sweep, vacuum, dust, swipe, or mop, renters don't spend a light of time dwelling on the messes that accumulate on the floor. That means spills may linger a little longer, messes have a higher chance of penetrating down between the cracks, and scuffs and scratches will be widely ignored.
If you can install flooring that looks good under these conditions, you'll gain a better return on your investment. Try:
Laminate
Linoleum
Vinyl sheets
Vinyl tiles
Style
While landlords put most of the weight of a final flooring purchase on price, your tenants will only care about one thing: looks. They may not be expecting traditional hardwoods that are difficult to maintain, but they do want flooring that is stylish and will flatter their sense of fashion. Renters don't want to pay good money for a style right out of the 1980s.
Does your rental property say modern and chic? Or does it scream NO WAY?
Luckily, there are many different flooring choices you can select that will strike a balance between both of your desires. And you'll be surprised at how technology has given all of today's flooring choices a fresh, updated look. In some cases, you'll have to get down on the floor to tell what it really is. Those vinyl tile floors made to mimic hardwood and stone are truly out of this world.
If you want to focus on style, select:
Laminate
Linoleum
Vinyl tiles
Safety
Landlords need to take an extra step when selecting flooring, and consider tenant safety too. If a tenant trips over loose carpet, or slips and falls on poorly laid tile, there's a good chance you'll wind up in court defending your flooring choices.
Add in the fact that your tenants will be every age, have many different needs, and possibly live with disabilities that make it more challenging to get around. Does your flooring choice help or hinder the situation?
Stone or concrete might be rising in popularity, but it's not a great choice for rental property where your tenants change out regularly.
Our Advice
If you're in the process of selecting the best flooring for your rental properties, we have a final piece of advice.
First, think about the type of renter you're trying to attract. Being in the suburbs where families are dominant, is different than renting out a downtown flat surrounded my working millennials. Higher end rentals will also attract people with more luxurious tastes. If you have any questions about what's best for your situation, just ask. We're happy to give you a few recommendations.
Also, consider the lifestyle. Single family homes in suburbia will attract families with pets. That means kids racing in and out with dirty, wet shoes. It will also mean the dog and cat romp around, scratching the floor and making messes. Compare that to a small one bedroom condo on the eighteenth floor. Shoes are relatively clean as they make their way up in an elevator and down a hallway.
Your decision is based on a lot of things. Let us help you make your final selection.