Commercial flooring takes a lot more abuse than standard residential flooring. It sees higher traffic levels. It takes more punishment as dirt, debris, and moisture scrapes across from shoes and moving inventory.
If you're in the market for new commercial flooring, it's important to think beyond the looks. An exotic hardwood may move to the top of your list based on looks, especially if you're in finance or banking, for example. But will that exotic hardwood be the best choice for years to come given your traffic levels?
There's a lot to consider before you make your final selection. Luckily, we have some tips for you, and have a few suggestions to help you make your final decision. The most important thing is to love the look now and for years to come.
Start with a great foundation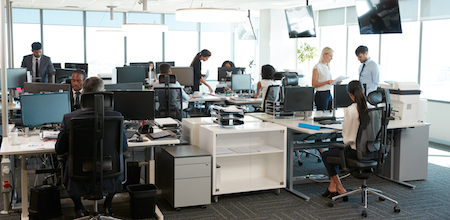 Unfortunately, most people start looking for commercial flooring based on price and budget. And while that may seem like the best place to start, it actually prevents you from considering all of your alternatives.
In many cases, it isn't the flooring choice you should consider first; it's the foundation. It's the base that your flooring is installed on.
Take, for example, carpeting. People often select the highest grade of carpet they can, then skimp on the padding underneath. Yet it's the padding that works to protect the carpet from wear, adding strength to the binding and backing to absorb the impact of foot traffic. Padding also determines how easily your carpet can be cleaned. With the right padding, it helps increase suction as it's vacuumed, allowing dirt to be pulled easily from the depth of the fibers.
If you're thinking of installing new commercial flooring, don't start by looking at flooring choices. Instead, start by asking yourself a few important questions.
What kind of traffic will the flooring have to sustain each day?
Is contamination a consideration?
Does sound matter within the space?
Will the flooring be subjected to chemicals or excessive exposure to dirt?
What image will be portrayed to visitors?
Is worker comfort something to consider?
The more you define what will happen in your space each day, the easier it will be to select the right choice for your needs.
Laminate
One of the most popular choices for commercial spaces if laminate wood flooring. It's easy to install and maintain over time, especially when compared with hardwood. It has an added benefit of being hygienic, making it the perfect choice for business in fields like medical, that care equally about aesthetics as well as functionality.
If you're attempting to gain LEED certification, you'll find that laminate leads the way in helping you achieve accreditation. Laminate isn't hardwood, but instead is made up of a composite wood with an overlayment hardwood image that mimics the real thing. Focus on materials used to find the most eco-friendly product in the marketplace. We can help you do that.
Engineered Hardwood 
If you want the look and feel of hardwood but are nervous about durability, consider engineered hardwood. Instead of being a solid piece of wood, engineered hardwood is a small slice of hardwood adhered to high-quality plywood. It's less expensive than traditional hardwood, but provides the same look and feel. You'll often find this in office buildings as it is more durable than traditional solid wood. It's also more eco-friendly as it only uses a small amount of hardwood to produce the same results.
Vinyl composite tile
Vinyl composite tile is the perfect solution when you're looking for an affordable, easy to maintain commercial flooring. What many business owners love about vinyl composite tile is the convenience; if you tear or damage one tile, it can be easily lifted and replaced. It's also easy to keep clean; using mild cleaners, you can mop up just about any spills in no time.
The biggest drawback is durability. Depending on wear, the corners of the tile can start to peel back. The adhesive can also come loose, allowing the tile to shift into place. It can also fade if subjected to harsh light, or is cleaned with chemicals on a regular basis. Still, in the right location, vinyl composite tiles can offer you an affordable solution to your commercial flooring needs.
Luxury vinyl tile
Luxury vinyl tile is growing in popularity in both the residential and commercial markets for good reason. It can give you the look of just about any type of flooring in a more affordable package. Imagine having a floor that looks like hardwood, marble, or stone, yet gives you the convenience of vinyl composite tile. That's the beauty of luxury vinyl.
It has a harder surface area than traditional vinyl. It also has a clear wear layer that provides more protection against wear and tear. Because of this wear layer, it doesn't have to be stripped, waxed, or sealed like other choices. It's becoming one of the preferred options for commercial property managers.
Carpet tiles
It's hard to argue against the more traditional carpet tiles you'll see in commercial properties all across Colorado. Since they are tiles, they offer an easy way to install and maintain the flooring. If you have a problem with one tile, simply pull it up and replace. Carpet tile also uses a strong adhesive for installation, making them stay in place longer than ever before.
Carpet tile comes in a wide variety of colors and patterns. If you have something specific in mind, it can be dyed and created just for you. It reduces noise and provides a softer environment – especially important in wide-open spaces where noise reduction is essential. They are also better for safety reasons; they can reduce falls near entrances where people track in snow and slush.
What's your choice for commercial flooring?
With all of these great choices, what's the best flooring for your needs? If you can't decide, stop by, and we'll show you all of these choices and help you make a well-informed decision.
Start with what you know you want. It might be the type of flooring, or a desire to become LEED certified. We'll show you your options and help narrow down your choices. We'll help you pick the right product to suit your business needs.