Hardwood floors are perfect for the modern home. They're beautiful. They can last for decades. They compliment any decor.
Yet once you decide hardwood flooring is right for your home, then comes the difficult choice of selecting a hardwood finish. There's more to it than picking out your favorite color.
On-site or prefinished? 
Different installation methods will impact the hardwood finish installed on your flooring.
Prefinished hardwood flooring is sold with stain and sealant already applied. This makes the entire process easier, from picking it out in the store, to laying it into place in your home. What you see is what you get. You'll never be surprised by the color or the finish, as it's in place from the moment you pick it out. The advantages are many:
You'll have less mess. Once the planks are installed, your flooring will be ready to use immediately. No waiting for staining or finishing, or dealing with the fumes and other by-products of the install.
You'll have less cost. Prefinished will incur labor costs for the installation of the planks. You won't need additional time for finishing work.
You'll need less time. This can be a huge saver if you are redecorating your home on a timeline.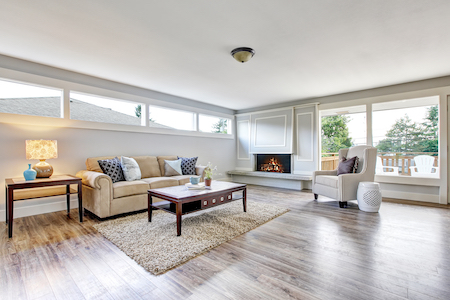 On-site finished hardwood planks are installed with raw wood planks. Once installed, stain and finish will be applied to the entire canvas of the floor. The advantages include:
You'll have more flexibility. Many homeowners add hardwood to their homes one room at a time. By laying it unfinished, a professional will have an easier time getting an exact match.
You'll have a more uniform color. Do you have a large, open space? Are you adding hardwood to many rooms throughout your home? The larger the space, the more likely you'll have color variance with prefinished flooring. Unfinished, on-site finished hardwood allows you to select the color and have it run throughout your home.
You'll have more opportunities. If you can dream it, it's possible with on-site finished hardwood. In historic homes, you may wish for a certain width of plank that might not be found in the prefinished market. A flooring professional can cut to size, and match any color you desire. It's the perfect way to stay on track with your renovation plans.
Hardwood finish – which is right for you?
Hardwood finish refers to the top coat. It's the surface layer that provides protection and durability. Whether you're looking for a shiny, high-gloss surface, or prefer something a little more subtle, there are plenty of options. We've chosen several hardwood finishes to give you more of an idea of what will work best in your home.
Water-based polyurethane
This is one of the most popular hardwood finishes for hardwood flooring. A water-based polyurethane provides a clear finish with a traditional hardwood look and feel.
If you look at engineered hardwood, it almost always has a water-based polyurethane finish. Its classic "wet" look provides a lustrous finish that makes your hardwood flooring stand out. It's achieved by applying several layers of water-based polyurethane applications.
Most high-gloss finishes are created in the factory and provided to the homeowner in prefinished planks. This ensures even application for a fully uniform look. This high sheen also makes clean-up easy, although it also makes items like pet hair and scratches a little more noticeable.
High-gloss may be the most popular, but you'll find satin and semi-gloss finishes too.
Oil-based polyurethane
Oil-based polyurethane consists of several different products, including linseed oil, synthetic resins, and plasticizers. This provides even more strength and durability, making this hardwood finish popular in the commercial marketplace. Homeowners also love it in high-traffic areas. This increases durability, and provides more strength against scratching and denting.
Oil-based polyurethane does have a slight amber or yellow tint to it. It can also continue yellowing more over time. Many homeowners love this rich, warm quality, and select a color that is enhanced by this feature. Oil-based polyurethane also comes in high-gloss, semi-gloss, and satin finishes.
This finish comes with a strong odor and releases VOCs during the installation process. It takes drying time between each coat, so this isn't a project you'll finish quickly. Most professionals recommend two or three coats, so plan accordingly.
Wax
Before homes moved to polyurethane finishes, wax was considered the finish of choice. In older, historic houses, it's still a popular application. It's perfect for do-it-yourself projects, and homeowners who like its low-sheen, natural appearance.
Wax comes in liquid and paste, both of which require several coats that are buffed by hand. You can mix wood stains into the wax to add color if you wish.
Because wax is a more natural finish, it doesn't hold up as well to water exposure. You'll notice white marks wherever it comes into contact with water, so it's not a great choice for kitchens or bathrooms. It's also a soft finish, meaning it's easy to scuff and scratch.
Wax sometimes yellows or darkens over time. If you decide to move to a polyurethane finish, the wax finish will need to be stripped away before application.
Acid-cured
One of the most durable hardwood finishes available is acid-cured finish, also called Swedish finish or conversion finish. It's an alcohol-based product that uses acid for the curing process. It creates a shiny finish that is highly durable and resistant to scuffs, scratches, and dents. It highlights the grain well, and allows the natural beauty to shine through.
This is a professional product and will need to be applied by a professional hardwood installer because of its high VOCs and flammable application. You will need to keep pets and kids away during application and drying, as well as excellent ventilation throughout. It's not as easy to retouch or fix damage once the finish is in place.
What's the right hardwood finish for your flooring?
These are just a few of the hardwood finishes available on today's most popular hardwood flooring options.
If you have questions about finding the perfect flooring finish to suit your family's lifestyle, we're here to help. Stop by today and see our complete line of hardwood floors. We'll help you find the perfect one for your home.