With so many different styles and textures of carpet, where do you begin?
Loop pile is made from multi-level loops or tufts of equal height. The loop design means it's a durable option for both residential and commercial applications.
Cut pile uses cut construction to create many different styles and patterns. This type of carpet construction usually creates different shades with combinations of big and small tufts of fiber. The height level varies depending on the design.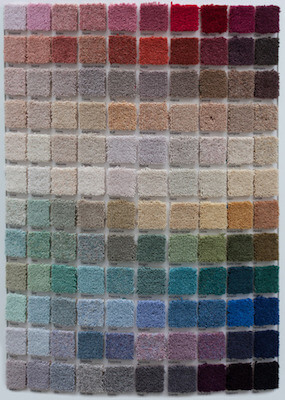 Plush or Saxony is a dense cut pile with all tufts going in the same direction. Yarn is closely packed, giving it a luxurious feel.
Cut loop provides yarn fibers that are sculpted to form patterns. You'll usually find these at lower price points and are great for your informal settings.
Frieze is a type of texture with highly twisted tufts at the surface. It is especially well suited for higher traffic areas. It gives a curly fiber appearance and is very durable for wear.
Trackless is another popular style mad with curled or twisted tufts in random directions. This unique texture makes it easier to mask footprints and continues to look great in all settings.
Berber carpet is a loop pile option with thick yarn, such as wool. It has a comfortable feel and handles well in high traffic situations.
Your floors are the fifth wall of your rooms, connecting all other decor together. It's important to consider color scheme as well as room use before making your final selection. Wall to wall carpet tends to expand the look and feel of a room. Light colored carpet makes your room look larger. Darker colored carpet can make a room seem more intimate.
What's the right choice for you? Need a little help deciding? Stop by today.