When you install new flooring, the inevitable will happen. You'll drop a heavy pan and put a dent in the wood. You'll move furniture and scrape the surface of your vinyl floors. You'll drop red wine on your light carpet.
You'll either be grateful you invested in extra flooring. Or you'll cringe inside knowing you're one step closer to replacing your flooring.
To save yourself the feeling of dread, as you're finalizing your decision on what flooring to install, plan ahead and purchase extra flooring to have on hand for when you need it.
Buying extra flooring is a smart decision
Rarely is a room perfectly square. You'll almost always have little areas that need flooring too. Like the coat closet near the front entrance. And where the floor curves slightly near the front window. Walk around your room and notice these nooks and crannies.
That means when you invest in new tiles or luxury vinyl planks, you'll have to cut a few to create a harmonious look. You'll need extra hardwood for the bottom of the closet.
Now let's talk about installation methods. Rarely do installers move perfectly from start to finish without a mishap. Again, rooms are seldom perfectly sized. Even if you're using a roll of carpet or vinyl, your room will invariably need seams to complete the project. That requires skill to cut and align it so the seam blends in.
Patterns and textures play a role in it too. You may need to cut your planks or tiles to get colors and shapes to match up. You'll have more waste with intricate patterns.
It's also wise to consider future needs. Extra flooring material will give you a chance to fix and replace damaged areas. Dented hardwood, stained carpet, or ripped or scuffed vinyl will be easy to fix when you have extra material.
How much extra flooring is enough?
As a general rule of thumb, flooring experts recommend:
Up to 15 percent extra for ceramic tiles
Up to 10 percent extra for vinyl planks
Up to 20 percent extra for solid hardwood
Up to 15 feet for wall-to-wall carpet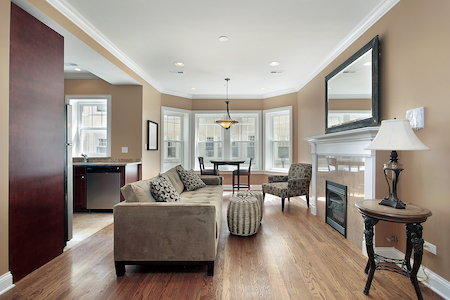 Of course, this is only an estimate. Your situation will determine the exact amount you should buy. A well-versed flooring expert can help you assess your needs. Consider the space you're installing the flooring, your lifestyle, and the material. In almost every circumstance, homeowners are always grateful to have a little extra rather than running short.
Wastage is normal
With many home improvement materials, you'll buy just enough to complete the project. Not so with flooring.
While an experienced installer will be efficient when laying your new flooring, there are always obstacles during the process. Wastage is normal.
It comes from the unanticipated problems that happen during installation.
There might be a flow in the fibers of the carpet
There may be tiles that aren't a perfect match
The grain in wood planks may need shifting and moving
The pattern in the vinyl must match up
Unexpected things happen too:
A tile drops to the floor and shatters
A tile snaps when trying to cut it
The surface of the vinyl rips while laying it into place
You discover a box of hardwood with a defect
Hardwood has one of the greatest numbers of rejects due to defects. Staining is an inexact science, and depends on the color mix as well as how the hardwood takes to the color. Color change is often noticeable when you place two planks side by side.
What if you run out of flooring material?
While we highly recommend investing in extra flooring material as a part of your original purchase, there may be a time when you run out before you finish your project. There are a few things you can do:
Save all flooring material until the end of the project. This gives you scrap pieces to play with as you finish your project. You may find the perfect piece to lay into a corner or closet.
Keep the original detail of your flooring at hand. This includes the manufacture date, lot number, color, and model number. You can work with your flooring retailer to see if they have additional material in their storeroom. They can check with the manufacturer or other retailers to see if they can find the same lot.
If you can't find your specific lot number, you can always try and match it up with another lot. In some cases, the colors and patterns may be close enough that it blends well without standing out.
If the new material stands out enough to be noticeable, you may have to rethink your flooring and purchase new material. Consider mixing and matching with your existing material to blend it. Or you may have to start over from scratch.
The specifics – what you should know
How much extra flooring material should you buy? It depends.
While we've given you a variety of tips to consider, it ultimately depends on the flooring material you're buying and the project you're completing.
Carpet usually is sold in 12 foot rolls. That means if you have a 15 foot room, you'll need a seam somewhere in the room. The grain of the carpet must run the same way or you'll notice it in the appearance. A knowledgeable carpet installer can make suggestions to ensure a long life, and it doesn't hinder the way you move throughout the room.
Sheet vinyl is similar to carpet, only it comes in 6 foot rolls. Sheet vinyl has the added need of matching grains, patterns, colors, and textures. It's important to create a seamless look, and place the seams in places that receive less traffic. A flush seam creates a flawless look.
Tile is often used in bathrooms, laundry rooms, and kitchens, so it has a variety of obstacles to go around. You'll need extra for cutting to place around sinks and toilets, and to wedge underneath vanities. Consider buying extra for breakage during installation.