Here in Colorado, we love hardwood. And nothing gives your home more style and ambiance then installing hardwood plank floors throughout your home. 
Yet even though it's a classic look, one that is popular throughout the Rocky Mountain region, it's not necessarily the right choice for everyone. 
Do you have pets that live and play inside your home? Do they race around chasing one another? Do they love to play catch with a ball?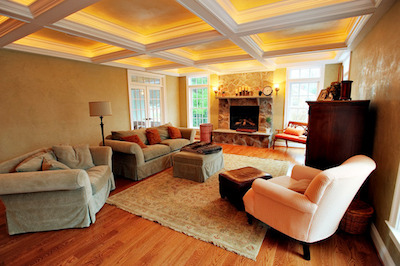 A few hours of that on a traditional hardwood plank floor will leave you regretting your decision to add this flooring choice to your home. 
Or maybe you have small children learning to crawl, walk, and jump. They drop their toys. They love to bang things together just to hear the noise. 
How well will your hardwood floors hold up to all of this action? Only time will tell. 
Luckily, there's a new option in town. And it's an option we really think you're going to love. 
It's tile flooring that looks like wood. If you've never seen it before, we think you're going to be pleasantly surprised. 
It's exactly what it sounds like – porcelain or ceramic tile that looks like traditional hardwood plank flooring. It comes in a variety of patterns, styles, and colors. It includes wood grain look with all of its perfect imperfections. You get all that and more – without the hassle and maintenance of traditional hardwood plank floors. 
Of course, there are pros and cons to both. There isn't a "right" choice for every home. Only you can know which is the best choice for your situation. That's why we've devised a little "pro and con" list to help you make your decision. 
Pros To Traditional Hardwood Plank Floors
Let's start with the obvious. Hardwood plank flooring has been around for a very long time. It's the most popular choice in homes all across the Denver Metro area, including homes up in the mountains. Can you imagine an elegant home in Evergreen with glorious views without hardwood flooring? 
Hardwood floors are timeless. They're beautiful. They have a natural glow that you can't duplicate. They are universal, and will never go out of style. 
And that means if you have hardwood plank floors throughout your home, it will improve your home's value as well if you ever decide to sell. And because hardwood can last for decades if it's well maintained, it's the perfect investment to make when you're remodeling your home. 
If you've ever walked on hardwood flooring, you know it's also one of the most comfortable flooring choices. It stays warmer in the winter, it's softer when you stand in place. That's because wood has a little give in it. And that can be a good thing at the end of a very long day. 
And let's not forget that because hardwood has been around for a long time, it's also easier to match. Do you already have hardwood in your entryway? Or maybe a dining room? Or your kitchen? If you choose to extend hardwood plank flooring throughout your home, chances are it's an easy match. 
Cons To Traditional Hardwood Plank Floors
If you have hardwood floors throughout your home, expect to spend time properly maintaining them. They don't take water well, which means you'll have to jump every time there is a spill. 
If you drop something, or have pets tearing through your home, expect scratches and dents to form quickly. 
You should also be aware that in some homes, hardwood flooring simply isn't doable. Do you live in a condo built on a cement slab? Solid hardwood flooring needs proper subfloors, and there might not be clearance to make it all fit. If the floor rises too high, it may be impossible to open doors. And the sound may be something you (and your neighbors) simply can't stand. 
Pros To Tile Plank Floors
If you're ready to make the switch to tile plank floors, you're going to love the durability. No more worrying about your pets destroying your flooring. No more worrying about your kids denting the wood. You also won't have to cringe every time a guest scrapes a dining room chair across the floor. 
What's more, when you spill a glass of water onto the floor, you won't have to be concerned about the damage it causes. And if your kids "forget" to tell you about the bathtub overflowing? No worries; it won't damage tile plank floors. (If water sits too long on any flooring, it can penetrate baseboards and seep down into the subfloor.)
If you haven't looked at this new line of tile plank flooring, you're going to be pleasantly surprised. They are stylish, and have more color options than anything you'll find in wood. Why? Because some colors are easier to make in a factory. Hardwood is a natural product, and you can't change its makeup. But with tile, the whites will be whiter, the whitewashed look will give you exactly what you're looking for. Even the graining may be more "perfect", giving you the ability to create any look at all. 
And tile plank floors can be installed anywhere. No more worries when placing it in your bathrooms, your laundry room, or the basement. 
Cons To Traditional Hardwood Plank Floors
Tile can be cold on the feet. You can solve that problem by installing radiant heating too. But that adds additional cost. 
And tile is harder than traditional hardwood plank flooring. You can't change that. 
Installation may be more expensive, as the subfloor may need more work. Because of how tile is installed, you need to make sure the subfloor is perfectly installed. Tiles will crack and break if the floor is uneven, so precautions need to be made to ensure its flat. 
There's also the chance that tile plank floors will become outdated and no longer the top choice for home remodels. We have no idea what future technology will look like, or what will be possible in the decades ahead. 
What's Your Preference? 
With all that said, you're probably starting to see a clear winner in your mind. What will it be? The timeless beauty of hardwood plank floors? Or the versatility of tile plank floors?
We have them both. Stop by today and see the difference.