What's one of the biggest concerns for finishing off or remodeling a basement? Moisture problems. Whether you've had leaks or floods in the past, or are simply considering the option as you finish your basement for the first time, moisture can be a problem in basements applications.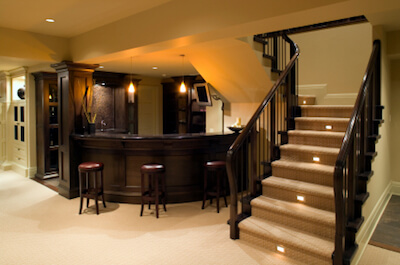 Which means it's important to install the right basement flooring to ensure best results.
Because the floor of your basement is below grade, the lowest surface of your home, it requires special consideration before your flooring can be installed. If it is susceptible to water, addressing the problem before you lay flooring is a given. Sealing your basement from water and moisture can be a big part of your remodeling budget.
Humidity and condensation are other concerns. Moist, humid air is heavy; it sinks to the lowest part of your home. When warmer, humid air comes in contact with the cooler surfaces of your home, such as a concrete slab floor, it condenses. And if it sits for too long, it can bring about mold and mildew growth. Heating and cooling systems often are equipped with a dehumidifier that helps maintain relative humidity levels for better indoor environment. The key is addressing concerns before they cause a problem.
Then it's decision time.
Surveys show that new basement installs use carpeting in almost thirty percent of the builds. It's a warmer option than other flooring choices, something that is important in an already cool place of the home. It also adds soundproofing, which can be important on a cement base.
Wall to wall carpeting is the easiest to install, and a low-cost option for homeowners trying to stretch the remodel budget. If you're still worried about moisture issues, consider a pad made to block moisture from either seeping into the carpet or seeping down to the concrete below. Cleanups will be easier, and you won't have chronic problems in the event minor water damage occurs.
Tile can also be a great choice, especially over concrete slabs. With many styles and colors available, they can give your home a flair for fashion for years to come, while maintaining a durable flooring option in the process.
Many homeowners also lean towards engineered wood. While this can carry a hardwood theme from your upper levels down into your basement, it also gives your basement durability. Because solid wood changes dimensions with fluctuations in temperature and humidity, basements often increase the chances of warping and cracking. Laminate or engineered wood decreases those chances, adds reliability and durability in the process.