One of the most popular choices for home flooring is hardwood. For many homeowners, they wouldn't think of installing anything but hardwood.
But did you know there are many different styles of hardwood – and not all of them work well in each home? Each wood flooring type offers a unique set of characteristics and benefits. If you install the right one, you'll have a flooring choice that can last for years.
Oak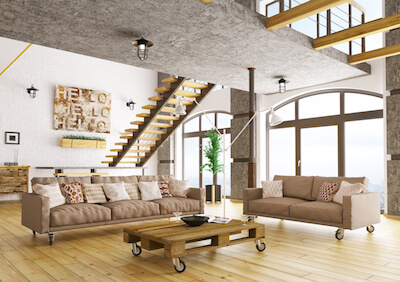 Oak is the most common wood floor used throughout Colorado. It's highly resistant to dents and deep scratches, giving it the edge if you want your hardwood floors to show without covering them up with area rugs. Oak comes in a variety of stain colors and has a unique grain pattern which gives your home personality and design.
Mahogany
Mahogany is prized for its beauty and color. You'll find mahogany is often used to make furniture, boats, and other fine home products because it's highly durable and water-resistant. That is also why many choose it for flooring. It provides a classic and timeless look for your home.
Ash
When you see a light colored hardwood floor, more often than not, it's ash wood. Ask is perfect for people looking for a hard, durable flooring option that will last for years. It's some of the toughest, hardest wood in the marketplace. Ash is differentiated from hickory by white dots, and is often less expensive than other comparable woods.
Hickory
Hickory is most common in log or rustic settings, and has one of the hardest exteriors for flooring choice. It's ideal if your home gets a lot of foot traffic. Hickory has a close grain without much pattern.
Pine
Pine isn't a hardwood. It's one of the softest woods and is great for people that are looking for the beauty of hardwood flooring but aren't quite sure of the rough touch underfoot. It's growing in popularity due to its pinholes and knots.
Cherry
Cherry is a hardwood that darkens with age. It can produce a great finish and is easy to maintain. It's also one of the easiest to scratch. It's difficult to work with, but it can make a good choice when properly installed.
Walnut
Walnut makes a perfect flooring choice because it is strong and durable. It's knowns for it's light to medium chocolate brown color. But it can be one of the pricier hardwood flooring choices. The texture and final appearance are often what homeowners like about this choice.
Bamboo
No, bamboo isn't a hardwood. But many people associate it as such because of its performance. It's a sustainable option because bamboo is actually a form of grass. It comes in two shades – natural light color or it can be boiled for a darker tint. Because it has been popular for a number of years, its flooring qualities continue to improve, making it a great choice for families that are looking for a greener flooring choice.
What type of hardwood flooring is right for you?