When it comes to day to day living, you've probably learned just how well gravity works. Between the kids' juice box remnants all over the family room, and the red wine stains from your last party, your flooring is a checkerboard showcasing your lifestyle.
If it's time to install new flooring, and you're shopping for a carpet that will last, chances are you've come across manufacturers that promise stain resistant carpeting. In some cases, they even have names like Stainmaster attached to their product line. Stain-proof carpeting; it's just what you need.
But do the claims really live up to the hype?
Let's start with carpet durability
Before we even begin to discuss stain resistant carpet, it's important to understand durability first.
When you're looking for a carpet that can keep up with your lifestyle, pay close attention to what the carpet is made of. It's stain resistant qualities are most influenced by the materials used to make it.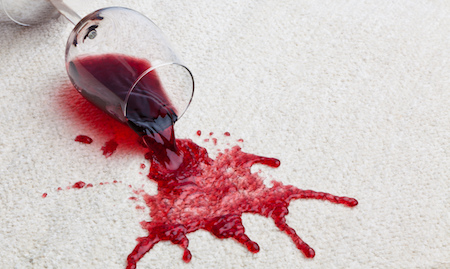 That includes the fibers, the backing, and the padding. Many people focus on the fibers only, then select the cheapest padding they can find. The two are created to work together. The padding actually adds the structural support to ensure your carpet has a long life. When you skimp in one area, the wearability will be impacted.
What matters in carpet fibers? A variety of things. Don't just look at the color and pattern to make your final selection. Most manufacturers will give you several comparable factors to look at as you're making your final selection.
Face weight – the weight per square yard of carpet
Total weight – face weight plus the weight of the backing
Density rating – this looks at the height of the fiber strand and factors that into how durable the carpet is
Wear rating – this is a subjective rating, often created by the manufacturer. While you can use it for evaluation, it's more difficult to compare over many brands.
Twist level – this is the number of twists in a one-inch strand. In most cases, higher twists mean a tighter weave, adding to the durability.
All of this can help point you in the direction of carpet that will be a good addition to your home. But there's also something more that can assure you don't have unsightly stains from the moment of your first spill.
What is stain resistant carpet?
Now that you know a little bit more about durability, it's time to understand how this all fits together to create a stain resistant carpet. Stain resistance starts with all of the attributes we mentioned above. It also depends on what the fiber is made of. (We'll get more into that in a minute.)
Many years ago, people began experimenting with all kinds of materials. Of course, they started with natural products like cotton and wool. But as they learned how to create things in a lab, they quickly discovered that some things are more durable than others.
When you make carpet out of synthetic materials like nylon, it creates a smooth texture, stands up better to water and stains, and isn't damaged as easily by common problems such as mildew or even pests. That made nylon zoom to the top of carpet manufacturers' wish lists, and they quickly made it their go-to product for making carpeting.
With an added step, they give carpets a chemical coating that makes the fibers stand up better to certain types of spills. It makes it more difficult for dirt and debris to embed in the fibers. It makes liquid spills sit on the top longer, creating a quick cleanup that's barely noticeable, if at all.
Of course, this has been morphing over time. Today's stain resistant carpets are a lot better than what was on the market a decade or two ago.
That means you'll find a variety of manufacturers, each putting their spin on things. You can find new names promising you a variety of different benefits for your home.
Where Stainmaster fits into everything
Within every industry, there's usually a leader. A brand that becomes synonymous within the industry itself.
Kleenex did that with tissues.
And Stainmaster did that with stain resistant carpet.
Stainmaster is one of the most recognizable brands of carpet. It also has one of the best warranties within the industry.
Keep in mind that not all dealers can offer Stainmaster carpet. If you're specifically looking for that brand, find someone who sells the product line.
Stainmaster uses one of the highest quality materials for its carpeting, Nylon 6.6. It's reinforced with Teflon – yes, that's the same material you'll find on your pans, the product that helps repel grease and grime. Because Stainmaster uses this same technology, the carpet fibers avoid most of your daily living messes. It makes maintenance easier, and keeps your carpets cleaner, longer.
Are there other choices?
Like all things, Stainmaster isn't the only choice you can make and still have stain resistant carpet. For many homeowners, they don't want to focus just on nylon.
While nylon is one of the most popular materials for carpets, manufacturers realize that different homeowners want different things.
For some, nylon is a lab-made product. It's made from synthetic materials. If you're looking for products to make your home a little more eco-friendly, nylon simply won't do.
Luckily, there are wool carpets for these homeowners. Wool doesn't have the stain resistant coating sprayed onto the fibers. Instead, wool has a natural resistance to certain types of stains. Wool does a great job of protecting the fibers from many kinds of spills, including certain oils. If your kids spill their juice boxes, you'll be able to soak it up. And if someone drops their hotdog, and ketchup splatters across the fibers, you'll be able to remove that too.
But there is a catch; wool is more expensive than synthetic-based carpet. Keep in mind, every carpet has its own limitations. You know your family and lifestyle best. If you bring us what your daily actions are and what your flooring usually faces, we can help you finalize what product would hold up best.
Are you ready for stain resistant carpet? 
Like every flooring choice out there, if you want to install stain resistant carpet, there are many different products available.
Start by bringing in your wishlist. We can match them to brands and manufacturers, and help you make the right choice for your home.