What do you think of when dreaming about the perfect home? Do you see a gourmet kitchen? A family room where everyone wants to hang out? Cozy bedrooms that allow you to snuggle down for some quality alone time? 
The base for all that coziness starts at the bottom – with your flooring. What do you see?
In recent years, hardwood has become the decor item of choice. But it by no means is the only option for your home. For many people, hardwood simply doesn't make sense. Hardwood has its own unique problems.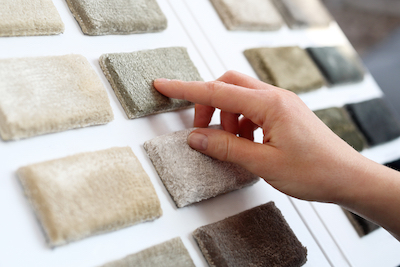 There are many reasons to choose carpet instead. Here are just a few. 
Comfort
It's hard to ignore the softness of wall to wall carpet. Plush pile gives you just what you need to sink your toes into, especially on a cold, winter morning. While you might not prefer carpeting throughout your home, it's quite often one of the best choices for bedrooms. And because carpet comes in a variety of colors, patterns, textures, and styles, you can let your creativity run wild and select something perfect to compliment your decor. 
In addition to feeling great on your toes, carpet adds warmth to a room too. Because it's made from thick fibers, with a backing equal in strength, and placed over a thick pad to increase the longevity of the carpet, it helps insulate the room and keep it a comfortable place to be all year long. Your kids will love to snuggle down into it, whether lying on their backs reading, or playing games with their friends. And pets will find it comfortable to sleep and relax, taking a little of the stress off their joints. For older homeowners that live with pain, carpet can be the perfect addition to increase comfort levels as they walk from room to room. 
And in busy households, carpet acts as a buffer, reducing the sound and noise throughout the rooms. Many condo associations have made carpeting a standard flooring choice for this very reason. While hardwoods and laminates create echos, carpet helps muffle sound. That can be especially helpful if your family includes small children taking naps, or shift workers trying to sleep at all hours of the day. 
Green
When most people desire to increase the green factor of their home, selecting products with eco-friendliness in mind, carpet isn't their first choice. 
Think again. 
It's true, most carpet today is made from synthetic fibers such as nylon, polypropylene, or polyester. Increasingly carpets are being created from post-consumer waste – recycled bottles and containers – making it a sustainable material. That makes it stronger, more resilient, and more stain-resistant than other carpets before. 
If you're worried about VOCs – this new synthetic carpeting has lowered the VOCs and is similar to other man-made flooring choices. Like other products, it is a good idea to keep your home well ventilated during the installation process, and for a few days after it's completed. 
If you want to up the green factor in your home, bypass synthetic materials and return to good old-fashioned wool. Today's wool fibers are warm, durable, and easier to maintain than other wool carpets of the past. You can also consider other natural fibers such as sisal from the agave plant, or coir, which is made from coconut trees. Both offer a wide variety of color and design options, while keeping your home green in the process. 
Appearance and Decor
We know one of the top reasons people choose carpet is the appearance. It's one of the best materials available to match any decor. You can create a clean palette and stay neutral, or liven things up by going bright and bold. You can compliment your decor, or change things up and make it the center of attention. 
Before you make a decision on what color carpet to install, ask yourself a few questions. 
How tolerant am I of color?
How often do I like to change my decor?
Will I be moving out of this home soon?
Our staff also can help by showing you a wide variety of options, then help you narrow down the selections and make the best choice for your situation. Think texture. A smooth, Saxony texture may be perfect for a refined look. A nubby loop pile texture may be the right choice for a busy family room. And let's not forget frieze – it's a modern take on the iconic shag carpet popular a few decades ago. 
Of course, if you're planning on making a move soon, it might benefit you to stay neutral. The last thing you want a potential buyer is to focus on the carpet. But even if you do want to stick with standard beige, you never have to settle for anything less than gorgeous. There really are a lot of options in any color combination. 
Cost 
Which brings us to one of the best reasons to choose carpet: cost. Carpeting is one of the most affordable flooring solutions on the market today. You can find it at any price point, stay simple, or move to a more luxurious look and feel. 
With carpet installation, it's not just the carpet that will be installed; padding plays an important role too. Padding is what helps increase your carpet's longevity. It gives it proper support against the subfloor every time you walk on it. Padding isn't the place to cut back on the cost; it's just as important as the final selection in carpeting. 
Keep in mind that carpet won't last as long as other flooring choices such as hardwood or tile. But with proper care and maintenance, it has a lifespan of around ten years. As you're considering your choices, look carefully at the different manufacturers. Each will give you guidelines on how to keep them looking their best. Carpet cleaning periodically is a must, but follow the manufacturer's guidelines for best results. 
So what are your reasons to choose carpet for your home? 
Are you ready to make your home a warmer, more comfortable place to live?
Are you ready to add a pop of color to every room in your home?
Or are you looking for an economical way to improve the looks of your home?
Whatever your reasons, we're here to help you make the best possible choice. And love your home for years to come.