proflooring-admin
January 21, 2015
Whether you update your home's décor on a regular basis, or this is the year you upgrade your home and give it more resell value, its hard to ignore the benefits of flooring. While paint colors can be changed easily as often as you desire, flooring is usually one option that gives your room its overall look and feel, yet isn't something you'll replace on a regular basis.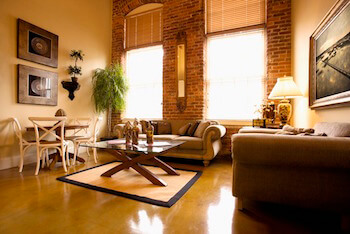 While its easy to stick with the basics, something neutral that will give you years of benefit, is that the best choice if you are looking at giving your home a modern look and feel? There are a few trends in flooring that will provide you with an updated look and feel, while still providing you with years of enjoyment in the future.
Wood Look Porcelain Tile
Technology has done some amazing things to the flooring industry. It gives consumers the look they love, while providing the durability they desire. And nothing provides both of these more than one of the newest entries into the flooring market, wood look porcelain tile. Wood floors continue to be one of the most sought after flooring choices for a home. But there are some rooms where wood isn't the best choice – kitchens, entryways, bathrooms. Porcelain tiles are more resistant to moisture than traditional hardwood flooring, which means it can give you the hardwood look with increased durability in the process. A perfect choice to continue your wood look throughout your home.
Weathered Hardwood
Because people love the look of hardwood, but aren't always crazy about its performance, another entry has made its way into the flooring market. Weathered hardwood provides a more natural look and feel to the more traditional hardwood flooring. These floors have an uneven texture – think farmhouse – that will hide scratches and other imperfections that can become glaring problems with traditional wood. It's a perfect choice for high traffic homes, and for homes with pets and kids.
Large Ceramic Tiles
Ceramic tile comes in all sizes, colors and shapes. And while you'll find many opportunities for decorating with tile, large format tiles are currently leading the way for your large open spaces. Large tiles come in 16×16 square and larger. By installing larger tiles, you will have fewer grout lines that will show, fewer grout lines to keep clean. It makes a room feel larger, and producer a cleaner, more uniform look.
Low Profile Carpets in Light Colors
Low profile carpets mean lower maintenance. They are more durable and easier to clean than other carpet choices. By sticking with lighter colors, you can give your room an open, airy feeling that will compliment any décor. Low Profile carpet is also budget friendly, making it the perfect choice for budget minded families.
Have any questions? Stop by or give us a call. We'd be happy to assist you with all of your flooring needs.