proflooring-admin
July 18, 2021
It sounds too good to be true.
All you have to do is buy the carpet, and the company will install it absolutely free. You'll never find a better offer, they say.
Of course, once you start reading the fine print, you start seeing where they make their money.
The price they quote for carpet in the ad is the cheapest carpet made. If you "upgrade" after signing on the dotted line, you'll pay an exorbitant price.
What they consider to be room size and what average rooms really are equate differently.
Extras start adding up quickly. You'll pay for every "problem" found. And these problems will start adding up in price.
Nothing is ever free. You'll always pay for it somewhere. Which is why it's better to do your homework early, and ensure you're working with a reputable company, which offers high-quality prices, and installs it in such a way for you to enjoy it throughout its lifespan.
What everyone wants from carpet
Quick: What's the most important benefit you're looking for as you select new carpet? If you're like most people, two factors come to mind.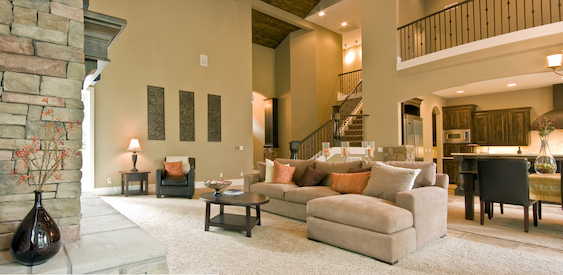 Why install a flooring into your home if it doesn't stand the test of time? It's important to have flooring easy to maintain and keeps up with your busy lifestyle.
It's equally important to love the carpet you install. If you hate it from day one, aren't happy with the look and feel, compromised in any way to put functionality over beauty, you'll never really like the way it looks in your home.
In general, we walk up to specific carpet samples because they fit our personalities. We like the color. The pattern works with the decor. It seems soft and luxurious. Looks pull you in, but it's the durability that will push the selection over the top.
What makes a carpet durable?
Just like beauty is in the eye of the beholder, durability can often be described in a similar fashion. What's durable to an empty nester living in an urban dwelling may not be considered durable to a family of six with two cats and a dog.
Durability is determined by starting with a few questions.
Where am I going to install the carpet?
What is the area used for?
Who uses the space regularly?
What look am I trying to achieve?
Share your answers with the sales associates you're working with. The more they know about your demands, the more they can help you choose carpeting with a balance between durability and beauty. To help you select the right carpet that will have you loving your carpet from day one.
There are many ways to find durability.
Start by looking at the manufacturer. In some products, no-name brands aren't a big deal. With carpet, that isn't necessarily so. The reason certain manufacturers are well-known is that they've been in the industry for years. They care about the products they create, are on the cutting edge of technology, and are always looking for ways to improve their product lines.
A carpet's durability is measured in several ways: face weight, tuft twist, and density rating. We usually suggest looking for carpet somewhere in the 34 to 40 ounce face weight range, with a tuft twist of 5 or more. The Carpet and Rug Institute recommends installing a carpet with at least a 3,600 density rating, with 5,000 or higher in high traffic areas.
I'm ready to shop. Now what?
One of the biggest reasons people fall out of love with their flooring choice is because they don't do enough homework first. This isn't something you'll be able to replace easily if you hate it. For most homeowners, once a new carpet is installed, it's something they'll live with for years to come. That alone is reason to slow down and ask a few more questions before you start to shop.
Where will I be installing new carpet? This may seem like a moot point – you're shopping with a room in mind for a reason – but it is something to consider before you shop. Are you looking for one room – a bedroom – or an entire home? If you're selecting one room, it allows you to get more specific with your options. When you include several rooms, it's important to shop with the most active room in mind. If a carpet can stand up in your family room, it'll look good in your bedroom for years to come.
How much are you willing to spend? It's easy to walk into a showroom and fall in love with a luxurious carpet. But when you see the price, it can impact your decision making skills, and increase the potential of buyer's remorse. Set your budget early. Leave a little room for adjustments. And don't forget about padding and labor costs. If you leave room in your budget for incidentals, you'll be satisfied with your final selection before it's ever installed.
What about longevity? People shop for a rental home differently than they do a family home. Will you be moving in a year? Or are you trying to find a carpet that will last for years to come? Knowing your choice early can help point you in the right direction of which carpet to choose.
What about fiber? Carpet is made from several different types of fiber. Depending on which you choose will impact wear, maintenance, and longevity. Options include:
Nylon – the most resilient carpet fiber, but it must be treated with a stain protector from time to time to keep it functioning well.
Polyester – this fiber is stain-resistant and soft to the touch. Plush carpet often falls in this category. However, it's harder to maintain and won't last as long as other options.
Olefin – an inexpensive option that resists staining, fading, and mildew. It's a good choice for high traffic areas.
Wool – if you're looking for a natural option, wool is an excellent choice.
What about style and color? With everything else in mind, now it's time to pick colors, patterns, and styles that suit your personality and needs. Bring in color charts, paint samples, and pillows. When you're down to a few selections, bring them home and see how they look in the room. Live with them for a few days and see them in different lights.
Choosing the right carpet shouldn't be a difficult process. If you start with a bit of knowledge before you make your final decision, you'll enjoy the process and love the results.
How can we help you select the right carpet for your needs?