proflooring-admin
May 19, 2015
When a new floor is installed into your home or your place of business, most people spend a lot of time thinking about the floor, and not a lot of time thinking about how its installed. Flooring adhesives serve many purposes, with the main one being to hold your floor in place. Yet all adhesives have additional features as well; such as adding flexibility with an urethane adhesive to allow a hardwood floor to expand and contract over time.
Use the wrong adhesive with your flooring type and you'll know it immediately. Even when choosing an adhesive formulated for the flooring you are installing, it's good to know you are getting the best features available, to ensure your floor will serve you well now and into the future.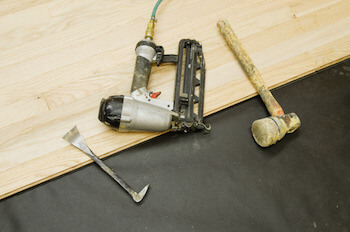 Adhesives in general are made up of different things.
Polymer – a compound used in within the adhesive. If can be a natural rubber, styrene butadiene rubber (SBR) or neoprene.
Binder – a substance that holds the adhesive together. common binders are rubber resin and latex resin.
Resin – are usually a solid or semi-solid material that are natural or synthetic. They improve adhesion, improve tack, and improve the strength.
Fillers – fillers are added to lower the cost and also improve the characteristics of the adhesive. Fillers can control stickiness or add in strength. They can help control moisture, keep away the bugs, or stabilize the surface.
When choosing adhesive for carpeting, consider the backing, the traffic, the maintenance schedule, and the quality and the lifecycle of the carpet. Carpet in a commercial office space will have different requirements than a bedroom in a home. The majority of today's carpet installations rely on the use of SVR based adhesives because of their excellent grabbing and holding capabilities.
When choosing vinyl for sheet and vinyl tiles, it's imperative that quality adhesive is used to prevent problems down the road. Be sure to consider the specific usage of the room when choosing adhesive. If you will have heavy loads and lots of movement, a harder setting adhesive may be required to keep the flooring in place and looking good over time.
Hardwood flooring comes in many options, each with it's own installation needs. The adhesive needed for engineered wood is different than solid wood planks. For engineered wood, a water based adhesive is a good choice because of its excellent bonding characteristics. Urethane based adhesives are excellent choices for solid wood products, giving them strength and flexibility for the long term.
Tiling requirements vary greatly as well. Adhesive needed for tiling on a shower stall is different than one chosen for a kitchen floor.  There are two types of ceramic adhesives – Type I and Type II, one used for walls and ceilings in wet requirements, and two used in dry or with limited water exposure.
Have additional questions? Let us know; we'd be happy to answer any of your questions.