proflooring-admin
March 26, 2020
Are you in the market for new flooring? What kind are you in the market for? There are a variety of choices you can select from to improve the looks of your home.
How about hardwood throughout? Or maybe new carpet to keep your floors warm. Want to try something new? You're going to love today's luxury vinyl tile; it looks so real you'll swear it's hardwood plank, stone, or granite.
No matter what kind of flooring you're considering, you have a lot of options for making your final selection. But who should you trust?
If you've been asking – who sells flooring near me – you have a lot of choices. Let's look at how you should make your final decision.
Many start with an online search
Chances are if you're reading this article, you've already started your search online. You might have even found us through a search like: Who sells flooring near me?
Google today is a very sophisticated program. No matter what you type into Google, it has the structure to deliver you results you expect to see. It knows what city you reside in. It understands your preferences. It will give you lots of options: from recommendations, to maps with potential locations, to other questions people ask related to your search. You'll be able to click and learn as you go.
You may even be able to find online retailers that offer really good deals. In fact, this may be one of the cheapest ways to buy flooring. Online retailers buy in very large quantities, which means they can pass the savings on to you. But cheap prices come at a cost.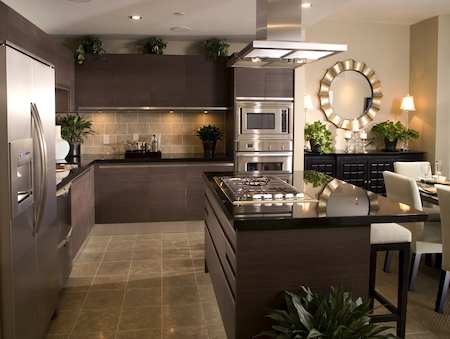 They may buy huge quantities to lower the cost, but shipping it to you isn't easy, and in most cases, you're going to pay the price.
If you have a question, you may have to rely on an automated response system to answer your question. At best, a customer service rep might be there from 9 to 5, but chances are they know little more than selling and billing.
They don't care about the installation process. Their entire goal is to sell you product. If you have a problem with installation, or ruin material because you aren't sure what to do, it's your issue.
You can't see what you're buying until it's delivered. And what you see online isn't always what you're going to get. Depending on policies, you might not have much recourse.
Selecting the right flooring is a complicated process. While buying online work for some industry experts who know how to navigate and what to pay attention to, this isn't easy for most homeowners looking for flooring that will last for years.
How about buying from big box stores?
As you cruise through the aisles of your local big box store – think Home Depot or Lowe's – you can find just about anything for your home, including flooring. There's an aisle of tile, a rack filled with carpet samples, and several shelves of hardwood planks. You'll even find laminate and vinyl tucked into a corner.
But what you won't find are a lot of choices. Or a lot of expertise.
If you happen to get lucky, you might find someone working who actually knows about flooring. But it's a hit or miss – you can't depend on it from store to store, or every hour of the day.
Big box stores also look for great deals on what the average consumer wants to buy. That's why their selections aren't huge. Because they also buy in bulk to satisfy the needs of shoppers in every store across America – or the world – they can get very low costs on the few products they do buy.
If you've ever found "deals of the month" at places like Costco, you know your choice dwindles even further, to one. They have stacks and stacks of laminate, for example, for a coupon shopping best deal. You can choose that – or move on.
Do these have their place in our society? Of course.
But if you aren't sure what you want, or have something in mind that is a little different than what you see in all of your neighbor's homes, you'll only find that by working with an expert flooring retailer.
What we do differently
What happens when you shop with a local independent flooring shop like ours?
Let's start with the "feel good" side of our business. We're local. We're a small business that opened up to do something we loved, and to be a part of our community. We treat our employees differently than they do at the big box stores because they're more like family. We only have the need for a small number of people, so they really have become a part of our family.
We strive to ensure we offer the best products and materials to the people who buy from us. We do our research, know our product inside and out, and care about everything that leaves our shop with our name on it. We're not in this for the quick buck; we're in this for our full time income, and will be for many years into the future.
Plus, it's nice knowing you're keeping your money with someone who's a neighbor, who shops the same stores as you, whose kids go to the same school as yours.
And when you come in and talk flooring with us, you'll find we know more about flooring than just about anybody. Every single person you'll come in contact with here is educated about flooring. There's nothing they won't know; know questions they'll leave unanswered. And if by chance that can't answer your questions, they have many other people right here in our store they can call upon to help.
They are also more invested in their jobs. When people come to work for us, it's because they love this industry and truly want to be here. They are in service, wanting to help every customer who walks through our doors.
We all know we wouldn't survive without customers like you. So we take our jobs very seriously.
Who do you want to do business with?
If you're trying "who sells flooring near me", we suggest you give us a try.
We're a great fit for people who know they want new flooring, but aren't quite sure which to choose. You might have some ideas, but want help to finalize your decision.
We're here when you're ready to make the right flooring choice for your home.