proflooring-admin
November 14, 2022
What do home buyers want today?
A study produced by the National Association of Realtors, found that 54 percent of home buyers are willing to pay more for hardwood flooring.
Whether you're considering a remodel, or are getting your home ready for selling, hardwood flooring may be the perfect addition to your home. Here is some food for thought on why hardwood flooring will help sell your home.
Hardwood flooring adds value to your home
Let's start with the most obvious. Besides being attractive and making a good first impression when potential home buyers walk through the front door, it also boosts how much money they're willing to put down. Realtors report home prices can increase by as much as 5 percent of the asking price if they have hardwood in the main living quarters.
If you're considering a remodel, it's good to keep in mind that the average return on investment (ROI) for installing hardwood ranges between 70 to 80 percent.
Use this as you plan out your remodel. Will you be investing in hardwood flooring for immediate resale? Or will you be enjoying your new flooring for a few years before putting it up for sale? That may alter what type of hardwood you put in.
With today's technology, there are many ways to get the look of hardwood.
Solid hardwood is always a wise choice. Its classic beauty can last for decades if well cared for.
Engineered hardwood gives you classic looks at a more affordable price.
Laminate provides more functionality and stands up better where traditional hardwood may have a problem.
Luxury vinyl planks mimic the best of solid hardwood, yet can offer waterproof options that are perfect for moist and humid areas.
Tile planks are growing in popularity for giving you the functionality of tile with the looks of hardwood.
Hardwood flooring is aesthetically pleasing
Hardwood flooring is the one material that remains relevant and continues to look good throughout the years.
Maybe it's because of its flexibility. It works effectively with almost any design theme, and in any situation. Prefer a clean, modern look with minimalistic lines? Hardwood flooring works perfectly. Want country chic? Hardwood gives you just what you're looking for. Prefer rustic, reminiscent of an old skiing lodge? Yep, hardwood works there too.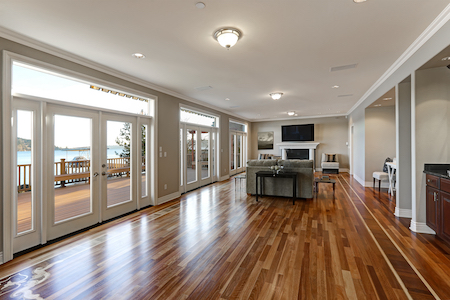 It may also be from hardwood's ability to look even better with age. Because you can sand it down and refinish it time and again, some of the very things that give it an original look make it even better over time. You can feel the history just by walking into the room.
Of course, if natural beauty is your thing, you can't go wrong with hardwood flooring. It's worked in homes for thousands of years – who can argue with what works? There's something about knowing how your hardwood flooring is sourced that can give you an added bonus of knowing you're adding sustainability and classic materials to your home as you complete your remodel.
Hardwood flooring offers durability that lasts for years
Durability stems from providing a surface that's long-lasting and easy to care for.
Hardwood flooring provides all of that and more. In fact, they're so durable, they've lasted for centuries in some cases, and still look good.
Solid hardwood planks provide strength to a residential setting. If you focus on quality, they offer a high-quality surface area. With the right sealant, your regular household activities won't impact the surface. You'll sweep away dust and debris with a quick swipe of a broom. Spills will also be wiped away easily, leaving nothing but the quality shining through every single day.
And when the years go by and the shine disappears, the planks still have life in them. Just sand them down and refinish them. You can change the color, or keep it the same. Then repeat it again somewhere down the road.
What other flooring can give you all of that?
Hardwood flooring stands the test of time
Every generation has its style and fads. Think shag carpet. The colors orange, gold, and avocado green. How about Pergo?
Each style and fad is reminiscent of a certain period in time.
Hardwood, however, stands the test of time. You'll find it in residential homes through every generation. You'll find it used in homes in ancient civilizations.
That's because nothing is better than using building materials right from the source. It's one thing that will never go out of style.
Hardwood flooring offers a clean, allergy-friendly surface
Want a surface area that won't hold dust, dirt, or other contaminants? Look no further than hardwood flooring.
Its natural qualities also mean it doesn't bring in volatile organic compounds (VOCs). It's created and manufactured from solid hardwood.
If you suffer from allergies, hardwood won't harbor dust mites and other pollutants the way other flooring choices may.
It also makes cleaning a breeze. A simple swipe of a broom carries potential problems away.
Hardwood flooring can be refinished multiple times without having to replace the floors
If you are living in your forever home, your idea of a "dream home" may change from time to time.
You're looking for light and airy today. You prefer dark and dramatic tomorrow.
With hardwood, that's okay.
When you're ready for a change, skip buying and installing new flooring. Instead, you can sand it down and refinish it to give you the fresh appearance you're looking for. Sanding it down takes it back to a smooth surface area. New stain and sealant give it its new appearance.
And you'll fall in love all over again.
Are you ready to make your house more sellable? 
Then it's time to install hardwood.
While traditional hardwood is always a good choice, it's not your only choice. Let your preferences and lifestyle lead the way to finding the perfect hardwood flooring to make your house a home.
And create a house that will be a future buyer's dream come true too.