Ready to have new carpet installed in your home this year?
Carpeting isn't something you select every day, so it's easy to be overwhelmed with the process. Carpets are meant to last for years, and give you worry-free living you can enjoy. And if you don't choose the company you do business with wisely, or worse, try and do it yourself, you can wind up with poor installation, and a carpet you are anything but satisfied with.
Measuring incorrectly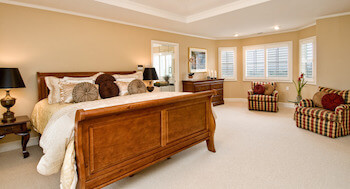 In many cases, homeowners attempt to measure their rooms on their own, without taking into account the little nuances that can make the installation process a little tricky. Since most homes don't have perfect squares or rectangles, it can be easy to miss the little details that add to the amount of carpeting you'll need. Like closet space. Or hallways. Measuring the flow layout and adding up every detail in the space that will be carpeted means ordering the right amount of carpet the first time.
Lack of equipment
It may seem easy to buy a remnant or have a friend help you lay a piece of carpeting you got on sale. But installing a carpet required the right tools to get the job done. Buying the right tools can cost a fortune; yet even renting the proper tools can be a headache. Getting the wrong size trowel, for instance, for laying down the carpet adhesive can make your installation process much more difficult, and may create errors in the way it is mounted.
Improper padding
The carpeting is what shows; its what gives your room its style. Which means it's where most people put their focus. However, it's the padding that will give your carpeting longevity, and make it wear better overall. Make sure you select the proper padding for the style of carpeting you choose, and choose the highest quality for your room's situation.
Improper fitting
Depending on the size of your room, seams may be a part of the landscape. Where those seams fall can increase or decrease the longevity of your carpet. Make sure the carpeting is laid to give functionality to your room without risking exposing the carpeting and having it fray around the seam lines.