proflooring-admin
March 25, 2015
How to remove footprints from wood floors
"I have beautiful dark wood floors throughout my home. I take extra care of them, and require people to take their shoes off at the front door. But now I'm noticing footprints across my floor and I can't seem to get them off. What do I do?"
If you are finding footprints on your sealed hardwood floors, the culprit is probably an oily film on the surface. If you've tried to remove footprints in the past by using traditional hardwood floor cleaners and waxes, you are possibly making the situation worse by adding a dulling layer to your floors, making footprints and other marks more noticeable. The good news is it's easy to remove with common household products you have in your home right now.
What you'll need: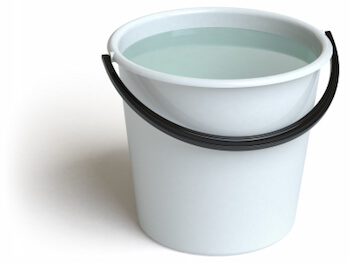 Vinegar
Water
Bucket
Mop
Soft cloths
Because the build up on your floors is causing the problem, you'll need to get through that build up and back down to your floors. A mild acid – vinegar – does the job well.
Directions:
Start by mixing about 1 cup of vinegar per gallon of warm water in a bucket. Wet your mop or soft cloth into the solution, then wring out to remove all excess water. Wipe the surface with the vinegar solution, rinsing the mop/cloth frequently. Allow the wood surface to air dry. If there are any standing pools of water that won't air dry quickly, use a soft cloth to remove the water.
Test out your floor. If you still see footprints when you walk across the floor, you still have a build up on your floor, meaning waxes or other polishers have been used for some time. Repeat the process until all build up is removed, and your floors retain their natural beauty when you walk across them.
Additional Tips on removing footprints: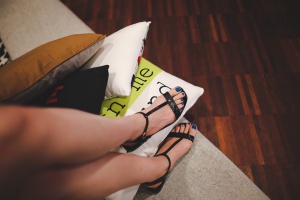 Even floors that are treated with a polyurethane coating should not be exposed to standing water. Always use a damp mop, never wet, and wipe away any areas with pooling water immediately.
If you have a lot of footprints, it can signal you have a higher concentration of build up. Use a stronger vinegar solution, and apply as many times as necessary to remove the build up. Be sure to allow drying time in between .
Keep a small solution in a spray bottle for quick pick ups.
Always avoid oil based cleaners on a sealed floor. Sealed floors do not need to be oiled or waxed. Simply cleaning them with a damp mop is the best way to keep them looking their best.
---
About Pro Flooring Brokers
We are a one stop shop for all of your flooring and installation needs. Located in Denver, CO, we have been family owned and operated for over 30 years! Our passion is your project.
Have a Flooring Project in the Denver Area?
Commercial and residential customers love our huge selection of carpet, hardwood, porcelain tile, natural stone, luxury vinyl tile/planks, laminate flooring, and sheet vinyl flooring. Check out our products to learn more. Visit our showroom, meet our team, and let's start your flooring project together. We offer:
Complimentary on-site measuring
Flooring estimates based on floor plans or blueprints
Installations performed by trained and qualified installers
Full one-year guarantee on all workmanship (in addition to manufacturer's warranty)
Flooring and installation are made easy with the PRO! Flooring Brokers. Contact us, visit our showroom, or call today at 303.788.0113. We look forward to helping you.