proflooring-admin
October 7, 2022
Resilient flooring. It sounds a bit vague; a catch-all phrase that can include all sorts of flooring products.
If you look up the term "resilient" in the dictionary, it means:
Capable of returning to an original shape or position
Flexible
Able to recover readily
For many homeowners, that's exactly what they are looking for when selecting a new flooring material. That's why resilient flooring is trending upward in the marketplace.
Still, if you're a homeowner in the market for new flooring, what does that really mean?
Resilient flooring explained
When you picture resilient flooring, you may think of flooring that:
Is comfortable with a little give
Bounces back no matter what your family can dish out
Is easy to care for
Continues to look good year after year
Is easy to maintain
Is a good value for your hard-earned dollar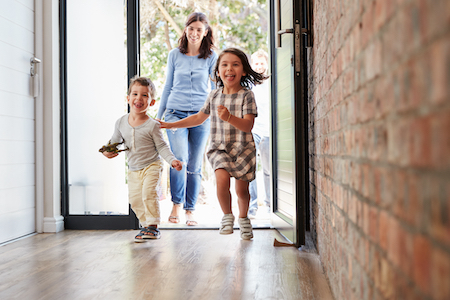 Resilient flooring is all that and more. It has more "give" than you'll find in hardwood planks, stone, or ceramic tile. It has more support than you'll find with carpet. It has the physical strength and flexibility to withstand nearly anything your family can spill, throw, or drop on it. In short, it's what many homeowners are installing right now as they remodel and renovate their homes.
Does it sound perfect for your home?
Types of resilient flooring
If you find resilient flooring interesting for installing inside your home, you'll find several floor covering types available for consideration.
Vinyl
Vinyl encompasses a variety of different flooring products, each with its own benefits for including them inside your home. Considering vinyl makes up about 80 percent of the resilient flooring market, it's worth digging in and learning more about if you're looking for resilient flooring.
Vinyl composition tiles (VCTs) top the list for strength and durability, often used in commercial applications. It's strong enough to stand up to the abuse it receives in healthcare, schools, and even supermarkets. It's a low cost, durable option that many DIYers are turning to because of the strength of the product. VCT manufacturers often fuse VCT chips into large sheets before cutting them into smaller tiles, making for easier installation. These VCT chips contain things like natural limestone, color pigments, polymers, and filler materials. They require several layers of polish after installation to keep them from being susceptible to stains and water damage.
Flexible luxury vinyl tile (LVT) has increased in sales the last few years because of its incredible design capabilities. If you've had your eye on some of the most popular flooring options – granite, marble, stone, hardwood – and can't justify the cost, LVT may be the right choice for you. The designs have become so well created, many guests can't tell the difference between the LVT product and the real thing. It's highly durable, and is water resistant. Maybe that's what's driving its current popularity – it's user-friendly in homes with active families.
Rigid luxury vinyl tile is often called rigid core flooring, and provides all of the advantages of flexible LVT … plus a few more. If you're looking for a product with underfoot comfort, look no further than rigid LVT. It combines a rigid surface plus a multilayer core that provides added warmth and better sound absorption. If you want even greater resistance to water, humidity, and environmental changes, rigid LVT ups what's possible in a flooring product. Some manufacturers offer waterproof flooring – you get great looks and the benefits of standing up to standing water too. Just be aware that nothing can withstand a flood. While this product does well if your kids forget to mention the puddle of water on the floor, water damage can occur if the entire room floods, and the water seeps into the baseboards and down underneath the tiles.
Sheet vinyl has been around for decades, and continues to be a great choice for some rooms in your home. Today's sheet vinyl typically comes in a 6-foot, 12-foot, or greater width roll that allows you to easily lay down flooring and provide excellent moisture protection. Today's sheet vinyl is better than anything you may remember from your parent's or grandparent's home. It mimics the aesthetics of other popular flooring choices, such as hardwood or stone. It combines lasting performance, low maintenance, softness underfoot, and an economical way to bring beauty into your home. From laundry rooms to bathrooms, it remains an economical choice for many homeowners.
Linoleum
For some homeowners, they want to expand beyond vinyl and return to a flooring product that is more natural, sustainable, and eco-friendly. For those families, we love to recommend linoleum. Made from natural, rapidly renewable ingredients, it offers an economical choice for families looking for resilient flooring. Linoleum is made from linseed oil (derived from flax plants), and is combined with limestone, pine resin, cork, wood flour, and dye. It's rolled onto a jute backing, and offers a flooring choice built to withstand heavy traffic, standing up to scratches, and more.
Linoleum comes in several types:
Glue down tiles that require adhesive during the installation process
Click and lock tiles that fit together like a jigsaw puzzle, ensuring a secure connection between the tiles or planks
Sheets are similar to glue-down vinyl, and are ideal for large spaces, such as halls and entryways
Rubber
While many homeowners rarely think of rubber when it comes to a flooring choice, that's changing as rubber moves more into the mainstream. Yoga spaces, workout rooms, and home gyms are often fitted with rubber to create a softer space for your workout routine without losing its shape.
But don't let the thought of being for gyms or workout spaces hold you back; we're seeing people move it to playrooms, nurseries, children's bedrooms, and even family rooms as they realize the benefits it brings.
Cork
A final product that homeowners are turning to brings a touch of eco-friendliness to the product. Cork comes in various sizes, shapes, and colors. Because it is harvested from the cork oak tree, it brings a sense of sustainability. Rather than harvesting the tree, cork is removed from the bark, meaning the tree can produce multiple times.
It's softer than you'll find with some of the more rigid resilient flooring options.
It's sustainable, which can give it an edge if that matters to you.
It's durable and easy to maintain. That alone makes it a great choice for any room in your home, able to withstand anything your family dishes out.
So what'll it be? Which resilient flooring is right for you?
There isn't a wrong choice. If we've listed it here, it has a number of benefits that can make it a great option for your home.
Resilient flooring is perfect for homeowners who want to strike a balance between comfort, cost, and durability.
How can we help you find the right resilient flooring to suit your needs?