Even a small amount of water can cause a lot of damage in your home. Water from a spill, a broken pipe, or from flooding can quickly grow into a larger problem, producing harmful mold that can impact your family's health.
A little moisture and a little dark space, and it can quickly escalate into a very large problem.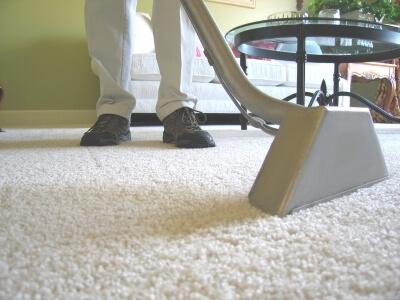 And while you may not think Colorado has a large mold problem in our dry weather conditions, think again. Flooding can quickly occur in spring and summer rain showers. And snowpack can quickly melt on warm days and cause damage quickly around the foundation, in basements, or even your main living quarters.
In many cases, you won't know it at all. Mold and mildew thrive in places you may not think to look … until the problem escalates. Especially with porous materials – carpet, carpet padding, and insulation in the walls.
Quick thinking is the most important part of clean up. From the moment you notice water damage, the sooner you can stop the water, clean up the mess, the more likely you can stop mold from growing in its tracks. Find the root cause, stop the water, and fix the problem. If water continues to flow, or if there is still risk involved, you could be facing the situation all over again. Fix the cause before you begin cleaning up.
Then dry out the carpets with fans. It can take several days for fans to dry a water damaged area. If you can circulate fresh air, it will help. Even if you think it's dry, it's not. If a room is closed up, the potential for humidity rises. It's important to get fresh air circulating as quickly as possible.
Depending on the location of the room, you may have to use a dehumidifier to remove excess moisture from the air. Any equipment that helps dry out the air and the ground will help speed up the drying time for your damaged floors and coverings.
Be sure to professionally clean your carpets to sanitize and deodorize. In most cases, damaged carpet padding must be replaced.
Sanitize all wallboards, baseboards and subflooring. If mold or mildew has stood unchecked for a period of time, it can impact the wood. Be sure it is cleaned thoroughly before you replace the flooring.
And when you are unsure of the safety of your flooring, replace when in doubt. Mold and mildew can quickly form and escalate when not properly cleaned. And because of the serious risk factors in has to your health, the quicker you get rid of the conditions, the more assurance you'll have that your flooring has returned to normal.
Have a question about which flooring is best in high moisture situations? Need new carpets after flooding in your home? We can help.