proflooring-admin
February 3, 2015
Have you ever been inside a home that just doesn't feel right? It feels a bit choppy, like there isn't an automatic flow from room to room? That's no accident.
How to Improve the Flow of Your Ranch Home with Flooring
There is an art form to creating a look that welcomes you as you move from space to space, room to room. And it all starts with the floors. Foundational elements – walls and flooring – set the stage for how a ranch house feels. Once you get those things right, the décor you choose will simply help everything fall into place.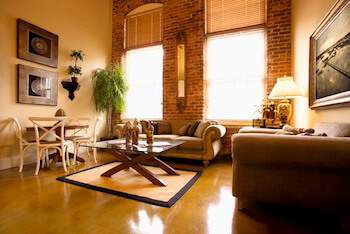 While every home may need special care in creating the right flow, ranch homes have unique challenges because all of your living space is on one level. To make bedrooms work with hallways, bathrooms work with living space, and great rooms work with kitchens, takes a special knack and talent to find the right look. After all, traffic flow in a kitchen is distinctly different than traffic flow to a bedroom. But if the master bedroom is down a hallway just off the kitchen, how do you make it work seamlessly?
Tip #1: You don't have to use the same flooring throughout your home
While using the same flooring choice throughout your home can create a uniform look and feel, it isn't necessary. Some people love the look of hardwood and want it to flow from front to back, side to side. It's a great way to keeping things uniform. But if you prefer softer, warmer bedrooms, why not transition from hardwoods to carpeting? The key here is to keep transitions parallel in like rooms. For instance, hardwoods may be installed throughout your home, but if you love carpeting, install the same color palette and style in the bedrooms. It will allow uniformity as you are moving down the halls.
Tip #2 Focus on the floor transitions
If you love wood in the main rooms, tile in the bathrooms, and carpeting in the bedrooms, go with your preferences. The key is to focus in on how the transitions occur from room to room. An ugly gold bar tacking carpeting into place can be an eyesore. By upgrading the materials and giving it a natural transition, you'll immediately add to the value of your look, and make it blend better overall.
Tip #3 The rule of three
A simple tip to remember is the rule of three. When you stand in any spot in your home, at any given time you should never see more than three forms of flooring. With more than three, a home tends to look busy and complicated. Remember, less is more. Also make sure the transition is visually pleasing, and colors work from room to room.
Tip #4 One choice = boring?
Some people are afraid to use the same flooring choice from room to room, front to back. Will a house look too boring, too mundane? Usually, when people use one flooring throughout their homes, they settle on hardwoods, laminates, or in some cases tile. With the versatility and easy maintenance these choices offer, they can be a great choice. They also provide you with options. If you want to break things up and add color, choose rugs. They come in all shapes and sizes, and can provide just the look you are trying to achieve, while still maintaining a pleasing foundation that will add value for years to come.
---
About Pro Flooring Brokers
We are a one stop shop for all of your flooring and installation needs. Located in Denver, CO, we have been family owned and operated for over 30 years! Our passion is your project.
Have a Flooring Project in the Denver Area?
Commercial and residential customers love our huge selection of carpet, hardwood, porcelain tile, natural stone, luxury vinyl tile/planks, laminate flooring, and sheet vinyl flooring. Check out our products to learn more. Visit our showroom, meet our team, and let's start your flooring project together. We offer:
Complimentary on-site measuring
Flooring estimates based on floor plans or blueprints
Installations performed by trained and qualified installers
Full one-year guarantee on all workmanship (in addition to manufacturer's warranty)
Flooring and installation are made easy with the PRO! Flooring Brokers. Contact us, visit our showroom, or call today at 303.788.0113. We look forward to helping you.