Looking for flooring a bit different than your neighbors? Want new flooring that offers green benefits, sustainable features, and environmental advantages? Look no further than bamboo flooring.
While bamboo is growing in popularity, it isn't as common as other types of flooring. That gives you a chance to stand out beyond what you see in other homes.
What is bamboo flooring? 
Bamboo flooring is a popular alternative to traditional hardwood flooring. It is made from the fast-growing bamboo plant, which is a sustainable and renewable resource.
Bamboo can be harvested after only three to five years, making it a much faster growing resource compared to traditional hardwoods, which can take decades to mature. Once the bamboo is harvested, it is then treated to prevent insect infestation and decay. This is typically done by boiling the bamboo in a borax solution.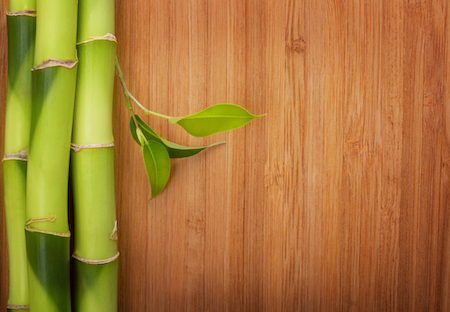 After treatment, the bamboo is then ready for manufacturing. The bamboo is cut into thin strips, then glued together in a process called lamination. This process involves gluing the strips together perpendicularly to create a strong and stable panel. The panel is then cut into planks, which will be used to make the flooring.
The bamboo planks are then ready for finishing. Finishing involves sanding and staining the bamboo planks to give them a smooth and polished appearance. It can also be sealed with a protective coating to make it more durable and resistant to scratches and stains.
With proper care and maintenance, bamboo flooring can last for many years and give any room a beautiful and natural look.
Environmental advantages to using bamboo flooring
Need even more reasons to fall in love with bamboo? We have several. Any one of them offers sound advice for moving bamboo to the top of your wish list.
Sustainability
One of the biggest environmental advantages of bamboo flooring is its sustainability. Bamboo is a highly renewable resource, able to reach maturity in just 3-5 years. Compare that to the decades it takes for traditional hardwood trees to mature. This means that bamboo can be harvested and regrown much more quickly, providing a sustainable source of material for flooring. Additionally, bamboo can be grown in a variety of different climates and environments, making it a versatile option for flooring that is not dependent on a single region or ecosystem.
Carbon sequestration
Bamboo is also known for its high carbon sequestration rate. This means that it can absorb and store a significant amount of carbon dioxide from the atmosphere, helping to mitigate the effects of climate change. Bamboo forests can sequester up to 35 percent more carbon dioxide than other types of forests, making them an effective tool for fighting global warming.
Water conservation
Another environmental advantage of bamboo flooring is its water conservation. Bamboo is a drought-resistant plant, requiring less water to grow than traditional hardwood trees. This means that it can be grown in areas with limited water resources, reducing the strain on local water supplies. Additionally, bamboo can be grown without the use of chemical fertilizers or pesticides, which can further reduce its water usage.
Biodiversity
Bamboo forests can provide habitat for a wide variety of plant and animal species, helping to preserve biodiversity in areas where they are grown. Bamboo forests are known to be home to many different species of birds, insects, and mammals. Moreover, it's a natural barrier that could help to prevent soil erosion, maintain water quality, and also provide a source of food and medicine.
Soil conservation
Bamboo has a strong root system that helps to stabilize the soil, reducing erosion and promoting soil health. The roots of bamboo plants can grow up to 20 feet deep, providing a sturdy anchor for the soil. This can help to prevent erosion, particularly in areas prone to landslides or heavy rains. Furthermore, the leaves and other organic matter from bamboo plants can also help to improve the fertility of the soil, providing a natural way to maintain healthy soil conditions.
Low chemical use
Bamboo flooring is often produced with minimal chemical inputs, making it a more eco-friendly option than some traditional flooring materials. Bamboo is usually grown without the use of chemical fertilizers or pesticides, which can help to reduce the environmental impact of its cultivation. Additionally, many bamboo flooring products are made using formaldehyde-free adhesives, which can help to reduce the number of harmful chemicals released into the environment.
Durability
Bamboo is naturally strong and durable, making it a great choice for high-traffic areas in the home. Its natural strength and density make it resistant to wear and tear, and it's also resistant to moisture and insects, which can extend the life of the flooring. This means that bamboo flooring can last for many years, reducing the need for frequent replacements and helping to reduce waste.
Bamboo flooring – it's a stylish alternative
Have you ever thought: I love hardwood, but it's so…
We get you. That's what motivates a lot of homeowners to give bamboo flooring a second look.
You're sold on the idea of adding an environmentally friendly version to your home. But you may not know just how beautiful bamboo flooring can be.
Many feel bamboo elevates the elegance of a home from the moment it's laid into place. It makes a statement without being overwhelming. It gives you a step up from the aesthetically pleasing look you can achieve with a more traditional hardwood.
Bamboo is typically lighter in color than solid hardwood. But you can find darker color combinations thanks to some manufacturers' carbonization processes. It has a more unified texture and grain, which means each board tends to be more similar in appearance.
If you haven't experienced bamboo flooring yet, maybe now is the time. Stop by, and you can compare bamboo to any other hardwood you see, and find out which one will make the best choice for you.
Is bamboo flooring right for your home?
Bamboo flooring offers a variety of environmental advantages, such as sustainability, biodiversity, and soil conservation. These benefits make it a great choice for anyone looking for an eco-friendly flooring option for their home. If you want flooring that is cost-effective, stylish, and easy to maintain, bamboo flooring may just be what you're looking for.
Are you ready to take another look at bamboo flooring?