Homeowners love hardwood floors. Here in North America, the wood flooring market is a multi-billion dollar market, growing every year.
Resilient flooring is growing by leaps and bounds, rising over 21 percent this past year because of its ease and flexibility of use.
Ceramic tile comes in as the third-largest flooring sector.
What do all of these flooring categories have in common? A hard surface area that makes cleaning, maintenance, and functionality a snap.
Yet what gives them durability is also something that can be a challenge as well. It's hard to lay on a ceramic tile floor to play a game. Or for the kids to play with their toys on hardwood.
For that, many homeowners turn to rugs. They add warmth to any room. They allow your personality to shine through.
Is buying a new rug in your future? Choose wisely, and caring for your new rug will be a breeze.
Where to start – Look for rug color and design
As a homeowner, your first thought when selecting something new for the home moves to color and design. It's only natural. Why look at rugs with orange and red when what you really want is green and blue? If a round rug suits your needs, it makes it easy to bypass the rectangular rugs vying for your attention.
Yet even with the basics in mind, selecting rug color and design can be a daunting process.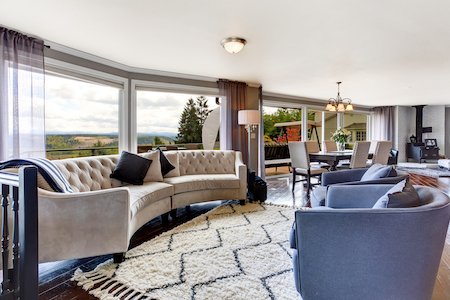 We recommend choosing rug color similarly to selecting furniture and paint color. Darker colors tend to make a room look smaller and cozier, while lighter colors open the space up. If you have neutral furniture, bringing in patterns and bright colors with a rug can add pizzazz. Go neutral if you want a calm, relaxing space.
Think about where your emphasis will be. The brighter colors or wilder patterns you choose will naturally bring the eye down to the floor. If you stay neutral, the eye will move to furniture, wall coverings, or other designs you use in your room.
Rug size
In addition to color and pattern, the size of your rug will also play a big part in the overall look and feel of the room. Before you shop, carefully measure your space. Designers recommend that you should leave at least 18 inches of flooring exposed beyond the rug size. While this rule works well in standard size rooms, you can use your own judgment based on the room size and your desires.
When in doubt, err on the side of bigger. Undersized rugs often leave a room feeling disconnected. As a general guideline:
In living spaces, area rugs are often centered underneath coffee tables, with at least the front legs of furniture placed on the rug.
In dining spaces, add at least 3 feet in width from the table to ensure chairs are never on an uneven surface.
In bedrooms, rugs should be large enough for feet to land on when you get out of bed in the morning.
How rugs are made
If you want a rug to last for years, pay attention to how the rug is made. The weave used to make the rug, as well as what fibers are used in the process, will determine the durability of your rug.
Hand-knotted rugs – this is top of the line rug construction. While it's highly durable, it also will be at the top of affordability. Many hand-knotted rugs are created by artists, designed to last for generations.
Hand-tufted and hand-hooked rugs – are a more affordable alternative to hand-knotted rugs. Hand-tufted has a cut pile, while hand-hooked has a looped pile. They are manufactured in similar ways.
Power-loomed – you'll find these to be the most economical rugs on the market, using fibers like polyester and nylon for ease of use. You can expect these to last anywhere from three to ten years.
Flatweave – these rugs won't have a base material, and instead are designed to be reversible, allowing you to use both sides. They're often braided or woven, and can be cleaned easily.
Rug fibers
Rugs are made from a variety of different fibers. Many are created using synthetic fibers for both cleanability and durability. Want an eco-friendly option? There are natural fibers that fit the bill.
Acrylic – a durable plastic fiber that is mildew resistant and works well in bathrooms.
Bamboo – offers a natural choice that is commonly used in entryways or as hallway runners.
Cotton – it's one of the most common fibers around, which is why it makes a great addition to a rug. It's soft, easy to clean and maintain.
Jute – made from vegetable fiber, it is soft underfoot and can add texture to any room.
Nylon – offers the softness of silk without the hefty price. It's easily cleaned and has high durability, making it the perfect choice for any room in your home.
Olefin – it's a fiber similar to polypropylene, and is highly durable and easy to maintain.
Polypropylene – a synthetic plastic fiber that's both durable and fade-resistant. It's often used for both indoor and outdoor rugs because of its water-resistant qualities.
Silk – a luxurious fiber most often used in hand-knotted rugs, these delicate rugs should be tucked away in low traffic areas such as the bedroom.
Wool – the most commonly used natural fiber used in rugs. It's durable, soft, hypoallergenic, and naturally stain-resistant.
Caring for your rug
We tend to develop patterns in our daily routines. You sit in the same chairs. Walk in the same direction. That can cause wear marks on your rug, so it's a good idea to rotate your rug 180 degrees at least once per year.
Read the label and follow manufacturers' guidelines to keep your rug looking well. They will define cleaning recommendations, and give you various ways to care for it.
When you spot clean, use suggested products to ensure it doesn't impact the color of your rug. Blot the stain, never rub. Repeat until the stain disappears.
Vacuuming regularly should be all that's required to keep your rug looking its best.
Ready to select a rug for your home? Stop by today, and see our entire selection of rugs. You'll find the perfect one for your home.