According to the National Safety Council:
Over 1 million injuries occur each year as a direct result of falling down the stairs
Falling down stairways or staircases is the second leading cause of injury, just behind motor vehicle accidents
Over 12,000 deaths occur from accidentally falling down the stairs
If you have a two-story or multi-level home, stairs are a part of your normal routine. If the stairs are covered with the wrong material, they may be slippery and dangerous. If carpet is worn, they could be tripping hazards putting you at greater risk.
When was the last time you took a long, hard look at your stairs? Is it time to make them safer?
Start with material
The reason many people leave stairs carpeted is that it's one of the safest materials for staircases. If you get the right carpet, it can provide safety and reduce slippage, while looking great at the same time.
Stairs are synonymous with high traffic. How many times do you go up and down each day? Multiply that by every member of your family. That makes the carpet you add to your stairs. That makes it even more important to focus on material, and ensure you select a fiber that can stand the test of time.
Carpets come in many materials. Synthetic is one of the most popular choices, and offers many benefits for covering staircases. This includes nylon, polyester, triexta, olefin, and more. Of these, nylon is a top choice to increase safety, stain resistance, and durability on stairs.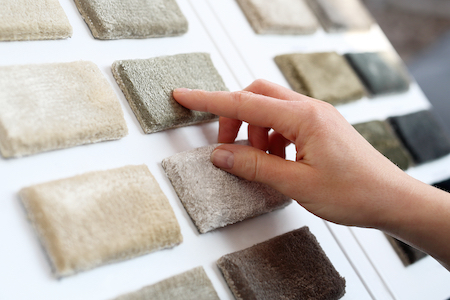 Want something more natural? Wool is always a good choice anywhere in your home, including the stairs. If you want the best of both worlds, consider a blended carpet for the stairs, one with both wool and synthetic to give durability and resilience.
Pay attention to how the carpet is made
Carpet is constructed in one of two ways: bulked continuous filament (BCF) and staple.
When you look at cut pile and loop carpets like Berber, you're looking at BCF construction, which means an entire section of carpet is woven from one long piece of fiber. It offers more versatility because the fibers will be tighter, won't shed, and will be more durable over time.
To make stairs safe, choose a low pile – ¾ inch or less to ensure resilience and stable grounding underfoot. It will also stand the test of time with high traffic moving up and down several times a day.
A synthetic plush style with twisted or cut pile is always a good bet. Depending on your family, Berber is also a good choice, though the short loops can be a problem with pets if they catch their nails as they travel up and down.
Rather than relying on sight alone for the height of the fiber, pay attention to the carpet density rating. This tells you the fiber thickness and how tightly the strands are woven together. Face weight will tell you the amount of fiber in ounces per square yard. In most cases, a higher face weight will give you a better quality carpet, all other things being equal. Look for a 35 ounce face weight or higher combined with a lower pile height.
You should also pay attention to the number of tufted rows per inch, which tells you how compact the pile is. The higher the number the better, which signals the carpet will handle well in high traffic situations.
Tuft twist ratings give you how many times fiber twists are in a one-inch length of carpeting. High fiber twists hold its shape longer, so select one with a five or higher rating.
When you have a good piece of carpet, select color for even more durability 
Homeowners often start by selecting color first. We recommend starting with quality, and following up with color choice. Because when you have a high quality fiber and construction, selecting the right color further enhances how well it will handle once it's installed on your staircase.
While you may love neutral creams and beiges for the rest of your house, for a staircase, it won't do. With high foot traffic every day, light colors will show wear quickly no matter how well you care for them.
Staying neutral is a good choice, but move to medium tones like taupe or coffee. This may be the time to look at blends of several colors to further camouflage dirt and high wear marks.
Have hardwood throughout your home and not sure about carpet on the stairs? How about a stair runner? These highly durable carpets can add durability and safety to your staircases without taking away looks. Plus, with the color choices, you can add a pop of color to your interior, bringing out your personality in any way you choose.
It's not just about the carpet
While it's easy to get caught up in the color and style, there's another part of carpet selection that's equally important to the process – choosing the right padding. What's underneath the carpet will enhance durability and longevity as much as selecting the right carpet in the first place.
While we're happy to help you select the right padding for your needs, be aware that for stairs, a thin, firm carpet pad will handle better than a thick, spongy one. You won't feel the softness or bounce you do when you lay carpet into a bedroom, for instance, but it will handle better over time. Your goal is to create a stable surface that makes it safe to go up and down at all hours of the day.
Experts state that for stairs, ⅜ inch thickness should be maximum, with an 8 pound density to compliment the low profile carpet you install on the stairs. Choose a high grade – this is going to be one of the highest wear areas in your home. You can also follow manufacturer's guidelines for the carpet you select, which usually makes recommendations for the perfect pad to use in different situations.
You can also focus on warranties. Look beyond the large numbers you see attached to the front of the samples. A manufacturer may promise a 25 year warranty, but what does that really cover? In some cases, they only cover defects for the full time period, and won't cover normal wear and tear. Ensure you select a carpet that will leave you covered at least for the first few years you have your carpet installed.
Are you in the process of selecting carpet for the stairs? What's the right choice for your needs?