Flooring isn't something you replace regularly. When you decide it's time for new floors, you start your search in different ways.
Maybe you've visited your local big box store to see what's on sale. Maybe you've searched online to find out what's popular.
With those ideas in mind, you start your search. Yet if you're relying on "truth" from those two sources, you might not have a clear picture of what's the right flooring for your home.
Let's look at bamboo flooring. While it's been growing in popularity over the past few years, if you come across an older website discussing the pros and cons of bamboo as a flooring choice, you might not fully understand this resource. Bamboo has been growing in popularity because manufacturers have been getting better at turning it into a flooring choice that works well for your home.
When you really know the facts about bamboo flooring, it's going to rise to the top of your list for every room in your home.
Fact: Bamboo is a hard, durable flooring material
Bamboo is often compared to hardwood, yet it isn't hardwood at all. Instead, bamboo comes from grass, not a tree.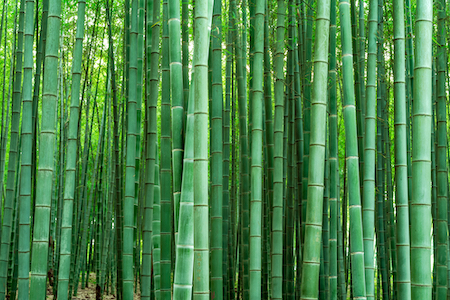 To create hardwood, it requires you to harvest trees and produce them in plank format. That process can take several decades of growth. Bamboo is a fast growing plant, and can be harvested within five to seven years. What's even better is it is a sustainable crop, meaning once it's cut down, it grows right back to the same height in another five to seven years. That makes it a perfect choice for people who are trying to reduce their carbon footprint, and look for building materials that add green technology into their homes.
Yet don't let the fact that it's a grass make you think it isn't durable. All hardwood is sold based on a Janka rating for telling consumers just how hard the product is. The Janka test is performed on a sample 2×6 inches in size. The rating is calculated by determining how much pressure it takes to push a 0.444 inch steel ball halfway into the wood sample. Oak is ranked around 1360. Brazillian cherry is at 3650. Strand woven bamboo registers at 4000.
A lot of misrepresentation happened with the original bamboo put on the market back when it was first introduced in the 1990s. Today's bamboo is nothing like the original building material. If you want a durable floor that will last through all your family can dish out, bamboo may be the right choice.
Fact: Bamboo is a great choice for kids and pets
One of the most common questions we have from homeowners is in finding the perfect mix between a flooring they want, and one that handles well to all their family can dish out. And we get it; your kids and pets aren't going to stop being kids and pets just because you installed new floors.
You may tell them to be careful the first few days. But after a while, all bets are off – you've got living to do.
Older generations of bamboo were soft enough that pet's nails and other sharp objects could easily scratch the surface. But if that happens today, it's because the bamboo flooring you installed is of poor quality.
Because bamboo is one of the hardest surface materials, it can take all your family can dish out. With the right finish in place, it can withstand years of use, even with the heaviest of dogs walking over the floors each day.
Fact: Bamboo can be installed anywhere
Homeowners love hardwood – they want it everywhere. Yet if you've ever tried placing hardwood in your basement, for example, you know that is a recipe for disaster.
Yet this can be a perfect place to install bamboo. Bamboo is so versatile, it can be installed below grade on a plywood subfloor, or even right over concrete. It does well in most climate conditions; just be sure you check with the manufacturer of the product you select to ensure it meets the standards of where you'll install it.
Fact: Bamboo isn't automatically made with chemicals
If you read enough online, you'll find many stories about how bad bamboo flooring can be for your health. They have high concentrations of formaldehyde, and can cause a host of problems, especially with vulnerable family members.
This simply isn't true. Yes, you can find some materials that are made in less than honorable ways. But high quality manufacturers are going to create products that stand the test of time.
This is also an example of why you should pay attention and do your due diligence as you shop. If you find a low cost source that seems too good to be true, it probably is.
All sorts of products on the market today are created using chemicals. The more aware we become of how they are impacting our health, the harder some companies work to reduce the chemicals in their product lines.
Ask questions about the products you're interested in. If you want truly sustainable bamboo flooring materials that are chemical free and will help you live a cleaner life, we're happy to show you products that meet your guidelines. Can you find that on a fly-by-night resource online? Of course. But when you choose reputable dealers, you'll be able to dig deeper into the sources to choose from, and understand your product on a deeper level.
Fact: Bamboo flooring provides a great looking floor
If you want a durable flooring product that looks great throughout your home, bamboo can be the resource you're looking for. If you want a product that can be refinished to give it an even longer lifespan, bamboo might be a perfect choice. If you're looking for a flooring product that comes in a variety of colors and patterns, and will work well no matter what your family can dish out, we highly recommend you give bamboo another look.
As flooring dealers, we understand that individual homeowners have a variety of wants and needs. Stop by today and we can share with you a variety of flooring products perfect for your busy lifestyle.