What does the word "tile" bring to mind?
For some, it might symbolize a durable flooring option.
For others, it can be a sign of beauty.
Tile is a versatile flooring choice that works just about anywhere.
Yet what a tile actually is may surprise you.
Wikipedia states a tile is a thin, square or rectangular covering manufactured from hard-wearing materials. It can be made from ceramic or stone, but it can also be created from glass or fabric.
What makes tile multifaceted is the fact it can be easily replaced. If a tile breaks, with care and work, you can replace it and have your entire flooring look great once again.
Whether you're using tile in a residential application, or are replacing flooring in a commercial setting, you'll never regret it as your flooring of choice. Why?
In one word: durability. Regardless of where you install it, tile will stand the test of time and look good in the process.
Want to learn even more about tile? We'll share some of the top reasons why we love tile, and think it makes the perfect application to almost any residential or commercial space.
The most durable tile for your home
People often select tile when they want a combination of color, functionality, and style all wrapped into one.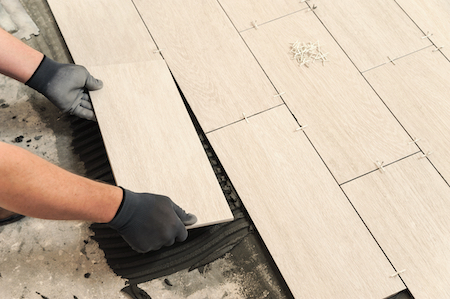 The best tile you can choose is the one that works for the room. Tile flooring adds value to your home, and it does even more.
Need a waterproof option? Tile maybe your solution.
Want a flooring that is easy to clean and maintain? Depending on the tile you select, you can easily wipe dirt and grime away.
If you need something hypoallergenic? Tile can be there for you too.
Want a specific color or design? Nothing gives you more options than tile flooring.
That may be the most challenging part about installing a new tile floor. Where do you begin! With so many options available to you, you'll need time to settle on the right tile floor for you. Popular choices include:
Ceramic tile – made from red, brown, or white clay, these can be your best option in a variety of situations. Put it in the bathroom; it works great for flooring, countertops, and shower walls. Place them in the kitchen; they look as great on the floor as they do on a backsplash. Once hardened and fired, ceramic tile can be durable enough to last for years. The color and pattern choices are endless, which gives you an infinite palette of opportunity as you install it into your home.
Natural stone – nothing says quiet elegance quite like natural stone. Whether you choose granite, limestone, or marble, using a natural stone brings the great outdoors inside. They come in any size and shape, depending on how natural you want to go. If you're looking for personality and uniqueness, natural stone brings it to the table. You'll always see individual beauty shining through, because each stone is uniquely its own.
Luxury vinyl tile – many people think they know what tile truly is. They think ceramic or stone … but it's so much more. Tile has two core characteristics: its familiar square or rectangular shape, and its ease of installation. You'll find both in today's luxury vinyl tile. Whether you select the look of hardwood or stone, these hardworking tiles keep on giving. What's more, they bring in the most popular flooring choices available, and add something more. If you've always wanted hardwood but need waterproof too, luxury vinyl tile may be the perfect solution.
The most durable tile for high-traffic situations
Inside your home, some areas naturally see more traffic than others. Think about how many times you walk through the front door into the entryway. Or down the hallway. Or into the kitchen. Wear patterns form quickly on flooring that is anything but durable.
Now think about commercial applications. The definition of high-traffic changes again. While you may have a handful of people walking through your home each day, hundreds, even thousands can journey over specific paths in a commercial setting. That means you have to think carefully about the most durable flooring options to suit your needs. Luckily, tile tops the list.
Quarry tile – this is perfect for heavy-duty applications. Made from hard-fired clay, this gives you functionality and durability, all in a pretty package. With the color and pattern choices available to you, you'll be able to create and design you're looking for. Just ensure you use epoxy grout and adhesive specifically designed for high-traffic applications to safeguard your tile and keep it durable throughout its use.
Luxury vinyl tile – if you select a commercial grade luxury vinyl tile, you'll have a durable flooring that's attractive enough for even the most upscale space. We've seen luxury vinyl tile placed in offices, schools, even medical spaces. These products are also known as resilient flooring for a very good reason. If you want a flooring choice that can handle all you dish out, luxury vinyl tile may be just what you're looking for.
Carpet tile – did you look at this heading twice? How can carpet be durable? Today's commercial carpet tiles are some of the most durable flooring choices on the market. These aren't your typical broadloom carpets. If you want a soft flooring that looks great too, you'll be surprised at just how well carpet tiles function in a variety of situations. Not just for commercial applications, we see them popping up in residential homes too.
Still have questions about tile and how they can offer you durable flooring options? 
We have the answers for you.
While we've tried to cover a variety of flooring options available to suit all of your needs, it's still just an overview of what's truly possible for your final design.
We're here and ready to answer all of your questions. Whether you're buying tile for one room, or have an entire commercial space in need of new flooring, we can help you find a durable flooring option you're going to love as much in the future as you do on the showroom floor.