If you've been looking at adding new tile to your home, or upgrading tile you already have in place, you probably know a thing or two about grout. Grout is simply the mortar or paste used for filling between the tile spaces. Grout is important to bind materials together and give you a surface that stands up to wear and tear. It's also important for aesthetic purposes, creating a design you'll enjoy every day.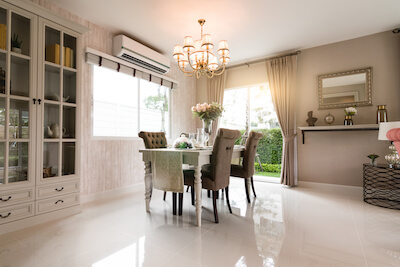 The type of grout you use depends on the style, tile color, and type of material selected. The most common types of grout are sanded and non-sanded, each with their own properties.
Non-Sanded
Non-sanded grout is a cement based grout normally used on smaller tile joints. It is recommended in floor and wall applications where the joint spacing is not more than 1/8th inch. This grout is designed for use in tile surfaces that are dry when the grout is applied. The water retentive additive allows grout to stay moist while being applied until it cures properly. It's easier to work with on vertical surfaces because it stays in a more solid state throughout the production process.
Sanded
Sanded grout is used for larger joints. Sanded grout uses a cement based mortar that has small sand grains added to it to help in the setting process. By adding the sand to grout, the mortar is stronger and stands up to more abuse throughout daily living. It is an excellent alternative for natural stone, marble tiles, glass, and heavier tile materials.  This grout is applied to moistened tile and is cured while damp. Depending on the polish of the stone, sanded grout may scratch the surface. If you decide to use sanded grout, be sure to test it before using to make sure it will not scratch your existing floor.
Epoxy
Epoxy grout is quite different than its counterparts. Epoxy grout is made from epoxy resins and a filler powder, which makes it extremely hard, durable, and nearly stain-proof. The bond between tiles is often stronger than the tile itself. However, most installers find it more difficult to use than other grouts. It also has a more plastic appearance, which some people don't like. It's also much more difficult to shape and slope, making transitions from tile to tile more difficult. It may slump in the joints after the floor is finished as it cures and loses its volume. It can also take longer to cure, and is more expensive than the sanded or non-sanded alternatives.
Have questions about your tile project? Stop in for a little help. We can help you make the right decision for your home.
---
About Pro Flooring Brokers in Denver
We are a one stop shop for all of your flooring and installation needs. Located in Denver, CO, we have been family owned and operated for over 30 years! Our passion is your project.
Have a Flooring Project in the Denver Area?
Commercial and residential customers love our huge selection of carpet, hardwood, porcelain tile, natural stone, luxury vinyl tile/planks, laminate flooring, and sheet vinyl flooring. Check out our products to learn more. Visit our showroom, meet our team, and let's start your flooring project together. We offer:
Complimentary on-site measuring
Flooring estimates based on floor plans or blueprints
Installations performed by trained and qualified installers
Full one-year guarantee on all workmanship (in addition to manufacturer's warranty)
Flooring and installation are made easy with the PRO! Flooring Brokers. Contact us, visit our showroom, or call today at 303.788.0113. We look forward to helping you!