Nothing creates a more elegant look that an area rug accenting your hardwood floors. You've invested a lot of money in both your hardwood and your rug; how do you keep it looking good for years to come?
To extend the life of your area rug, the most important part is vacuuming it frequently. Dirt and dust can quickly settle into the rug fibers, especially if your rug is in a high traffic area.
Today's vacuums promise powerful cleaning. But that cleaning can overwhelm delicate fibers of some rugs. To preserve your area rug, use vacuum attachments and a gentler setting, especially around the binding or outer edges. You can also use a carpet sweeper for everyday cleaning, which is manual and lighter to the touch.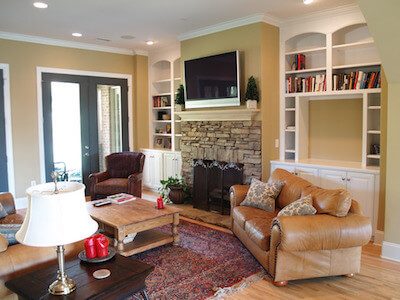 Keep in mind that during the first few months you own your area rug, some shedding is normal.
Clean Spills Immediately
The most important thing you can do to preserve your area rug is to clean spills as quickly as possible. Carpet fibers can pull any moisture that lies on the top of the pile and draw it within. If the spill has time to dry, it can permanently stain the fibers. So the cleaning process may vary depending on the type of rug and stain itself.
Always blot, never rub. Use water sparingly to keep the spill moist while you work on the spill. Use clean, dry cloth to blot at the spot until it fades away. It's also a good idea to get your area rug professionally cleaned once or twice per year, depending upon its use.
Rotate Your Rug
Depending on the use of your area rug and what environment it is placed in, it's a good idea to rotate your area rug on a regular basis. Turn your rug 180 degrees once or twice a year to prevent certain spots from fading or wearing out where traffic is heaviest.
Always Use A Rug Pad
Just like padding is essential for the life of your carpets, so too is a rug pad for the life of your area rug. A rug pad acts as a buffer between the hard surface and your area rug. It prevents fibers from being crushed. The rug wear will be kept to a minimum because it acts as a cushion against the flooring. It also keeps the rug from slipping on a hard surface.
And that's it. With just a few tips, your area rug will stay looking its best for years to come.