In the flooring industry, there are many misunderstood categories that confuse homeowners. They shy away from some flooring products simply because they don't understand the name.
Engineered flooring falls into that category. Many picture ugly floors with a hollow sound, reminiscent of flooring used in homes long ago. Nothing could be further from the truth. You'll find today's engineered flooring mimics solid wood so well, even the experts have to take a second glance. It's less prone to moisture damage, and is easier to maintain. If you'd rather spend time with your family than fussing over your floors, engineered wood may be the perfect choice to suit your needs.
What is engineered flooring?
Engineered wood flooring isn't a solid plank, but instead consists of a wear layer and a stability core. It starts with a thin layer of wood on top, also known as wood veneer, and multiple layers of backing, which produces the core.
The thickness of the veneer and core depends on the product and manufacturer you select. Pay attention to the construction, as this will play the biggest role in longevity and how your flooring handles over time. Durable engineered flooring should have an overall thickness of ⅝ inch or greater, 3/16 inch veneer, with a core thickness of 9-ply or above. The core should be thicker than the veneer, giving it strength and durability. It should be constructed from the highest quality woods for the core, with each ply angled, so the grains run at a 90-degree angle to the previous level it is adhered to.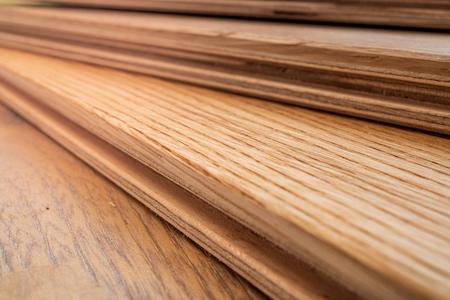 Most engineered flooring is mass-produced, which means it's worth paying attention to the manufacturer you select to ensure the greatest care is given to the final product produced.
Because the surface of the veneer is applied in the factory, it can be one of the strongest wear layers on the market. They are often produced with five or more coats of tough polyurethane to ensure the veneer is well protected and can withstand anything a homeowner dishes out.
But is engineered wood flooring really better than hardwood?
Still skeptical? We get it. Many homeowners feel the same way when they first enter our store. Hardwood is a beloved flooring product, and the concept of engineered wood flooring has a lot of baggage attached.
Appearance – if you purchase a high quality product from a reputable company, you are very unlikely to be able to see the difference. In fact, few visitors will ever question its authenticity, with most people assuming engineered wood is traditional solid hardwood planks. It's that good.
Durability – all you have to do is look at the warranty offered by engineered wood flooring products to know just how durable it is. Many of our top brands offer up to thirty years of protection, and stand behind their products in a variety of situations. They wouldn't do that if they doubted their products.
Maintenance – if you're already used to caring for traditional hardwood, you'll love the fact that engineered wood is even easier. With it being less likely to warp and be damaged by moisture and spills, you can feel good about your decision to install it in places you may have been hesitant before. Worried about your hardwood in the kitchen? No more. While engineered wood still isn't waterproof, the wear layer on most products means it will handle even better under pressure.
How is it different from laminate?
Great question. Engineered wood flooring has a wear layer veneer that sits on top and provides both strength and classic good looks once it's installed. Laminate is constructed with a thin coating made to resemble hardwood. The rest is a high-density fiberboard that consists of a variety of wood fibers held together by resin. Engineered wood uses a genuine piece of hardwood as its wear layer. Laminate uses an image of hardwood topped off by a series of polyurethane coats.
While the aesthetics may be similar, the overall construction is different. And that results in a much higher quality product.
One of the biggest advantages of engineered wood over laminate is longevity. Engineered flooring can be restored by sanding it down and reapplying finishing coats to seal in the classic good looks. While you won't be able to refinish the surface as many times as with solid hardwood, it still gives you several options. And with more manufacturers creating products in this industry, you'll find countless colors, styles, and wood types to suit your needs.
Another reason many people turn to laminate over solid hardwood is the ease of installation. Laminate comes in a variety of installation methods, including click-and-lock technology, which makes it a snap for do-it-yourselfers looking for easy options. Engineered wood leans towards laminate as a do-it-yourselfers possibility. Because the planks are prefinished in production, you can find your product, bring it home, and install it the same day. Of course, if you don't want to mess with the finishing work, and want to rely on a professional's experience, we can help you with that as well.
Where can it be installed?
Engineered wood can be installed anywhere you'd lay hardwood into place … and more.
If you want to use radiant heating in your home, engineered flooring is the perfect choice. The thinner boards heat better than a thicker, more solid piece of hardwood. Use a floating floor to hover over the radiant heating tubing, and you won't risk damaging the system located underneath.
If you're worried about installing solid hardwood in your basement, consider engineered flooring instead. Because of engineered wood's production, the boards are less likely to expand and contract as moisture levels change. Be aware that engineered wood is still wood, which means if your basement is prone to moisture and flooding, engineered flooring may not be the optimal choice. Take care of any spills, drips, or other moisture problems that put the boards at risk.
Is engineered flooring the right choice for you?
The best way to see your options is to stop by and take a look for yourself. You'll find our complete line of engineered wood on display. Find a few samples, and take them home today.