Remodeling your bathroom? Debating on what floors will be perfect for your new look?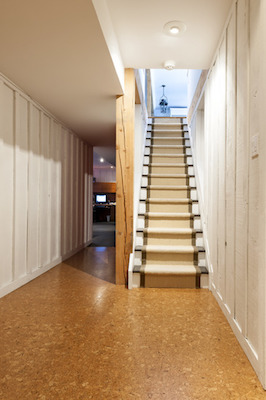 Why not give cork flooring a try.
If you've ever done any research on cork flooring, you know it's one of the easiest floors to fall in love with. It's soft under your feet. It's warm, which can be perfect on cold winter mornings. And it's easy to maintain.
But cork and bathrooms? Do they mix?
Have you ever watched how fast a cork stopper springs back into shape after you pull it out from a wine bottle? It retains its shape and continues to feel soft and smooth, no matter how long its been sitting in the bottle. And once removed, its easy to pop back into the bottle, moving back into position. It's flexible.
If you drop a bottle of your favorite cologne while getting ready, you won't have to cringe as you wait for the inevitable shatter. With hard ceramic tiles, that's a strong possibility. But not so with cork, as it most likely will bounce.
The softness is there. But what about durability?
Cork comes in two formats, glue down tiles and floating floor. The glue down tiles are the only format suitable for bathroom spaces due to potential water and moisture damage. A cork floor glue down tile requires the same subfloor preparation as a traditional mortar or glue down floor for other flooring choices. It must be clean and dry before installation, and use either plywood or cement as a base. Once the subfloor is in place, the process proceeds in similar fashion to a ceramic or porcelain tile.
After installation, be sure to apply two coats of water based polyurethane. This will prevent water from damaging the floor.
Thinking of installing cork in your bathrooms? Whether you are looking for a DIY project, or would prefer professional installation, stop by today and find the perfect cork tiles for your next project.