When you think of cork flooring, you think of a soft, cushiony, porous material. And many would argue that doesn't make the best flooring choice for a kitchen where spills happen on a regular basis.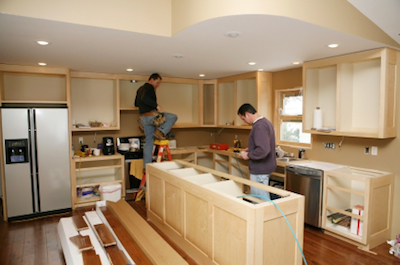 Yet that isn't true. Although there are guidelines for using cork in a kitchen, both cork tiles and floating cork flooring can be excellent for kitchen installation. And both provide a number of advantages.
#1 – Cork can be sealed for added protection
Unlike some flooring choices that require aluminum oxide, oil or wax finishes that can never be sealed, a polyurethane sealant can be used on cork to give it strength and durability. While polyurethane coatings must be reapplied throughout the life of your cork floor, it will give you a scratch and stain resistant shield that will protect it from most spills and messes that occur in the kitchen.
#2 – Cork floors are soft and cushiony
The kitchen is the one room in your home where you'll spend the most amount of time on your feet. And with the softness of a cork floor, standing will be much easier for longer periods of time. It can also be an added benefit if your home has children or elderly, where there is a potential for falling. Drop a dish on a cork floor and you'll have your greatest chance of having it survive the fall.
#3 – Cork is environmentally friendly
Cork comes from the bark of the Cork Oak tree. Because cork is harvested from the bark of the tree, obtaining it does not destroy the tree. Most cork trees will live around 200 years, making the production process a naturally sustainable practice.
#4 – Cork can be a healthy choice
Cork is naturally anti-microbial and hypoallergenic, which means it's the perfect addition to homes where health issues are of concern. If anyone in your family has allergies, asthma, or other respiratory diseases, cork flooring can aid in maintaining an allergen-free living space.
#5 – Cork is available in many colors and patterns
With a wide array of colors and patterns available, cork can be the perfect addition to whatever kitchen décor you choose.
Have additional questions about using cork flooring in your kitchen? Stop by today and learn the difference between our entire line of cork flooring.