It's easy to fall in love with tile.
In fact, most homeowners do at some point. Any time you browse through a magazine, or stroll through your favorite home improvement store, it's easy to find examples of tiles in gorgeous colors and patterns.
Yet using tile in your home can be a little overwhelming when you finally decide to remodel. What looks beautiful in someone else's home can be difficult to plan on your own. Where do you start? How do you select tile you love in the store, and still love it once it's installed in your home?
Benefits of tile flooring
When it comes to home improvement projects, adding new flooring can have a dramatic effect. No other material can change your design structure more thoroughly.
Tile is one of the oldest building materials used for home decor. The earliest use of decorative tile was found in ancient Egypt more than 6,000 years ago. Romans and Greeks wove tile together to make mosaics, murals, and more.
The design potential is unlimited. Stick with a single color for minimalism at its finest. Or mix patterns and colors for a totally customized look and feel.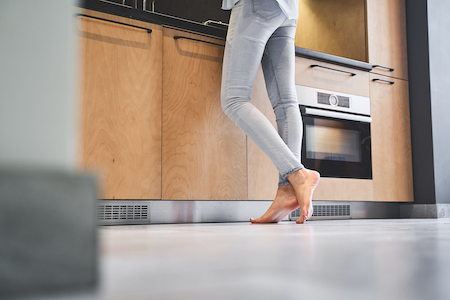 Plus they make one of the easiest floors to take care of. You can wipe away dirt and grime with a simple swipe of a broom or cloth. By using a high-quality grout and sealant, tile will be protected in all kinds of situations. If one cracks, keep a few extras around the house and it makes repair easy.
Overwhelmed with tile design? Read on for more tips
Whether you're installing tile in your kitchen, bathroom, laundry room, or all of the above, we realize selecting tile can be hard to visualize from a few tiles on display to incorporating it throughout your home. While you can customize to your heart's content, keeping a few general rules in mind may help make your selection process a little easier.
Tip #1: Start with a color palette
As a general rule, it's a good idea to start your decorating process with a color palette of 2 to 3 color choices. Anything more can take away fluidity and make your home look more thrown together without continuity in place. Colors evoke feeling and emotion, so it's important to select with a gut feeling about the appearance of your room. Play with the color wheel, and ensure your final selections are complementary colors.
If you use a patterned tile or one with multiple hues, it's a good idea to use that as your starting point, and select single color tiles the same shade. This pulls the colors together and carries them throughout your space. You can use this in other decor features, from the paint on the walls to accent pieces you place throughout.
Tip #2: Choose grout carefully
Many homeowners spend most of their time selecting tile, leaving grout choices as an afterthought. The right color and thickness will impact how visible your tile is. A light tile with heavy, dark grout will make the dark color pop. Likewise, if you make it lighter, it can put emphasis on the tile's shape or pattern.
When selecting tile, ask for grout recommendations. How would an installer you're considering use grout in your situation? You may gain advice you've never considered, which can further enhance the tile's overall look and feel.
Tip #3: Form or function, pay attention to both
Different tile, grout, and finishes will create different ambiance and texture. Ever walked into a room and had to touch because the texture stood out? That isn't always a good thing.
Tile is often installed with pure functionality in mind. You have a desire for water-resistant living with increased durability, and tile fits the bill. Yet there are many ways to dress it up and make it uniquely your own. How about a glaze with a shiny finish? Prefer matte with a subdued look? Special finishes can provide a host of tile finishes with varying texture and appeal.
Like color palette, make conscious choices about how many textures you introduce to your space. Too many and you'll create a disheveled appearance. Also be aware that certain textures can decrease functionality, making flooring slippery or even more attractive to dirt and grime. Address any of your concerns with a tile expert before finalizing your choices.
Get ready … Here are your choices
Most homeowners have a certain look in mind when they think about tile. Yet as you shop, you'll be pleasantly surprised at how many choices are available to you. You might be familiar with ceramic or porcelain tile, but have you ever considered glass? The most popular tile choices include:
Ceramic – this tops the list in both affordability and durability. If you can dream of a color or pattern, you'll find it with ceramic tile.
Porcelain tile – porcelain is a finer clay ceramic tile with extra strength and durability because they are fired at a higher temperature. Technology has given these tiles the ability to resemble some of the most in-demand flooring choices such as marble or hardwood planks. Selecting porcelain tile can provide you with a flooring that will last for decades.
Glass – you'll see glass increasingly being used in shower stalls or backsplashes. It has the highest level of stain resistance, but it is easier to crack or chip.
Marble – more expensive than other options, incorporating marble into your design can give your home a luxurious feel, adding into the ambiance. This natural stone may not deliver unlimited color combinations, but you will find unique grains and designs as natural colors shine through.
Granite – not just for countertops, granite is incorporated into flooring too. It's relatively waterproof and won't absorb most stains. It's a great way to set the stage in an entryway.
Are you using tile in your home? 
Do you have your design all worked out? The good news about tile is there are unlimited ways to incorporate it into your flooring, whether you use it in one room or throughout.
How can we help you select the right tile to suit your needs?