Home remodeling projects can quickly become overwhelming. The amount of decisions you have to make in a short time escalates as you move from beginning to end.
A lot of homeowners have their hearts set on a particular type of flooring, only to discover their contractor tries to steer them in a different direction. It turns out that exotic hardwood flooring you've been dreaming of might not be the perfect fit for your bathroom. There are better choices, she says.
How about vinyl or laminate?
Before you scream: "What!" take a  second look at these two products and see how they've changed the marketplace. These aren't your parents' flooring products. Technology has changed what's possible, and made vinyl and laminate some of the best flooring products for every room in your home.
What is laminate made of?
Remember the laminate of yesteryear? It took on an almost plastic look and feel. Yet contrary to belief, laminate isn't made up of plastic at all. Instead, laminate is made up of four wear layers built upon each other to build strength and durability into the final product. They are fused together using high heat and intense pressure to create a product that stands up well in areas where traditional hardwood often fails. These layers include: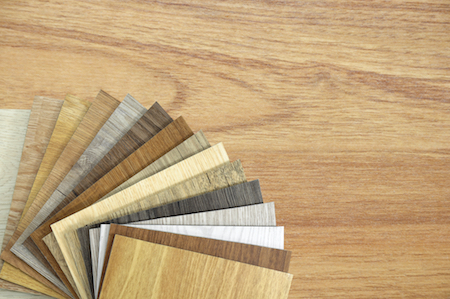 Back layer – this is the bottom layer used to protect against moisture and help balance the floor
Core layer – this is a highly durable board that helps protect from moisture and build strength
Design layer – this is a high resolution photograph to mimic many of the top floor patterns on the market today
Wear layer – this is a clear layer to protect against scratches, stains, and fading
What are vinyl planks made of?
Vinyl comes in a variety of styles. While the more traditional vinyl flooring products were laid in place as either sheet vinyl or vinyl tiles, today homeowners have another option: luxury vinyl planks. These closely resemble other top flooring products, including hardwood or stone.
In the marketplace, luxury vinyl is commonly referred to as Luxury Vinyl Tile (LVT) or Luxury Vinyl Plank (LVP).
Both LVT and LVP are made up of synthetic materials formed by mixing polyvinyl chloride (PVC), calcium carbonate, plasticizers, fungicides, and UV stabilizers, among other things. Through a heating process, they are combined with a vinyl compound that finishes the product base.
Like laminate, LVT and LVP both use four main layers:
Backing layer – a vinyl base layer that protects against moisture, mold, and mildew
Vinyl core – this is made from PVC material to make the product flexible and waterproof
Decorative layer – this is a thin digital image layer that is adhered to the vinyl core
Wear layer – the is a transparent topcoat that protects against scratches, stains, and fading
Vinyl vs Laminate – Which is better?
Homeowners usually gravitate towards vinyl and laminate when they are looking for a durable, economical, attractive flooring choice. If you want to take on a DIY project, both vinyl and laminate are good options. But which is better? That's where many homeowners get confused.
For many years, laminate was the flooring of choice with its realistic graphics, easy installation, and thick, durable product that stood up well under traffic. But when the luxury vinyl plank entered the marketplace, things changed. A high quality LVP can stand up to pressure equally as laminate, and the graphics make it look like the real thing.
There really isn't a bad choice when comparing the two.
Where will you install?
In some cases, it can center around where you'll be installing your new flooring. One of the biggest separators between laminate and vinyl is the ability to stand up against moisture.
All types of vinyl – sheet, tile, and plank – are waterproof. They are usually made from a material that is 100 percent waterproof, giving it the ability to be installed in rooms where wet conditions are prevalent, such as bathrooms, laundry rooms, or mud rooms. While older vinyl may have had a fabric or felt back, newer product lines are made from polymer materials that can be fully immersed in water and still be unaffected.
Laminate uses a fiberboard at the core. Because this is a wood-based product, it will soften, swell, and eventually deteriorate when exposed to water. This can cause a host of damage, from warping during the drying process, to having the design layer peel back and fade away. If laminate has severe water damage, it will most likely have to be replaced.
Because of that, vinyl can be installed anywhere in your home and look great no matter how much abuse it takes. With laminate, you should be a little more choosy about where you install. Places like the living room, dining room, or bedroom are perfect for laminate. Full bathroom, laundry room, or mudroom, not so much.
Let's talk about composition
While we've already compared the two products based on how they are produced, we haven't talked much about composition.
Vinyl flooring is made entirely from synthetic material. You'll find a thin fiberglass base coated with PVC vinyl, embossed with a print layer, and finished with a wear layer over the top. When you select luxury vinyl planks, they fit side by side, clicking into place. Because these layers are thin, you'll find the overall thickness ranges from 1.5 mm to 5 mm.
Laminate flooring uses the same locking installation process, but the critical difference is the core. Because this is made from a wood product, it's thicker than its synthetic counterpart. The overall thickness of laminate flooring ranges from 6 mm to 12 mm.
That can make the difference for where you choose to install it. Pay attention to transitions from room to room; are you trying to match a different flooring choice?
It's all about aesthetics and preferences
Still trying to decide which is better, vinyl or laminate? Honestly, we love them both.
Today's product lines can mimic just about any flooring product on the market, while giving you the benefits of being a more resilient flooring choice. Both vinyl and laminate can mimic wood, stone, ceramics, or just about any flooring you choose. The three-dimensional graphics used to create both vinyl and laminate are more real than ever before. If you want the look of exotic hardwood, for example, you might just prefer the look used to mimic it on vinyl or laminate, plus it's a fraction of the price.
Is there a right choice? It all depends on your preferences. The best place to start is to stop by our showroom and see the differences yourself. Both vinyl and laminate are great products to include in your latest remodeling project.