What's the cheapest flooring option available? You'd be surprised at how many times that question is asked.
There are a lot of reasons people want affordable flooring. They are:
Adding flooring to a rental property
Fixing and flipping a home
Living on a budget
Looking for quick fixes for a problem room
Wanting to change out decor frequently
Of course, the reasons are endless – sometimes as homeowners, we just don't want to break the bank by putting in new floors.
Still, if you've ever asked yourself that question, you might avoid looking for the answer, worried about the quality of flooring you might get. Thanks to technological advances, there are many inexpensive flooring options available to suit your needs.
Want a do-it-yourself option to save even more money? We can help with that.
Want something that's as easy to take out as it is to lay into place? We can help with that too.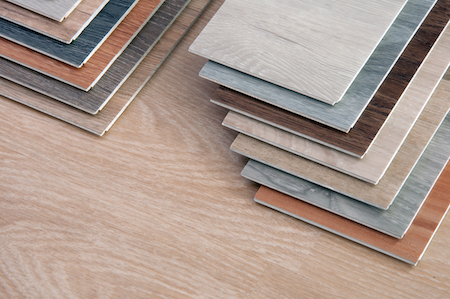 Whether you're looking for a DIY project for a bathroom project, or are redecorating a basement on a budget, there are many commonly used flooring materials that are going to give you long-lasting results with a budget-friendly price tag. Here are our favorite "cheap" flooring options.
Vinyl 
By far, vinyl brings the most to the table when looking for affordable options.
Vinyl flooring comes in sheets, tiles, and planks. It's primarily made from PVC, which helps provide a durable, water-resistant flooring material that works just about any place inside your home. Want waterproof? With today's technology, that's available too.
Vinyl is easy to care for, easy to clean, and can stand up to anything your family can dish out. It provides a softer surface than other flooring options, making it a good choice if you'll be standing for extended periods of time. While it's one of the most affordable flooring options, it can also provide you with 25 years or more of life, depending on how well you care for it.
Sheet vinyl is one of the easiest to lay into place. You'll typically find sheet vinyl in 6-foot and 12-foot widths. It can be difficult to handle as you bring it into your home, so it's recommended you leave installation up to the professionals.
If you want a do-it-yourself option, consider vinyl tile. It gives you the same look and feel you'll achieve with sheet vinyl in convenient smaller format tiles. Some provide stick-in-place technology, meaning you can have your room finished in just a few hours. No prior experience needed. It's an easy project for homeowners to take on themselves.
Want to upgrade the look of your space? Consider luxury vinyl planks. It gives you the look of real hardwood or stone without the expensive price tag. Unlike sheet vinyl, luxury vinyl planks come in workable sizes similar to hardwood planks. Many come in peel-and-stick or click-and-lock systems, making installation fairly easy for those looking to do the work themselves.
No matter your budget, you'll find one of these vinyl products perfect for home improvement projects.
Laminate
For some homeowners, only hardwood will do. They love the look and feel of traditional hardwood, yet the price tag can quickly scare them off. If you've been putting off your home improvement project because you think you can't afford your dream flooring, take a look at laminate.
Laminate mimics the look of traditional hardwood, yet gives you a more affordable flooring option you'll love. Laminate is created from a composite of materials, and uses a highly refined photographic image of hardwood embossed on its surface. It is finished with a protective top layer that creates the perfect structure for your busy lifestyle.
Laminate is installed as a floating floor, which means the planks click together and lock in place. Without having to be glued down, they are easier to install. If you want a do-it-yourself project, laminate offers user-friendly installation. Floating floors also offer the benefit of being able to be installed over some existing floors. Trying to hide old vinyl? Laminate may be your new flooring of choice.
Carpet
Carpet continues to be one of the best flooring investments you can make. If you're focused on budget, carpet may very well be a great option.
Like vinyl, carpet offers you a variety of different options. Have one of our professionals install wall-to-wall carpet, or select a do-it-yourself option with carpet tiles. Depending on which you choose, with regular maintenance, you can easily expect ten years or more of wear.
People love carpet because of the warmth it adds to a space. Walk across it, and you'll feel the warmth between your toes. Carpet also adds noise-canceling qualities. Carpet is a great addition to an upper floor living space where echoing below may present a problem.
Carpet brings added safety too. Install carpet on stairs to create a safer walking environment. If you have elderly at home, carpet can also cushion in the event of falls.
Carpet does not work well in areas where moisture is an ongoing problem. Avoid putting it in places like bathrooms or laundry spaces. It can be a problem with prolonged moisture, which can eventually lead to mold.
Tile
Ceramic tile is available in an almost unlimited color, pattern, size, and style range. If you can dream it, you can complete your floor design with ceramic tile.
It has the added benefit of being at the lower end of flooring material costs. Look for manufactured tile that's rated at least a three on the Porcelain Enamel Institute (PCI) scale. Too thin and it will be brittle, and won't stand the test of time when you use it as flooring material.
You'll also have to take into account labor costs. Tile needs adhesive and grout to be laid into place. That means your cost will increase for installation. But when well cared for, tile can last for decades. That makes it a great choice for places you might not want to frequently remodel, like bathrooms or laundry rooms.
What's your flooring of choice? 
Just because you start searching for cheap flooring options, doesn't mean you have to compromise on quality. Find an affordable flooring material that suits your needs, one you'll love now and for years into the future.