Here in Colorado, hardwood flooring continues to take top billing in what homeowners choose for their homes.
And while hardwood always looks beautiful in every setting, it doesn't always make sense for every home. Hardwood requires more maintenance than other flooring choices. It is more susceptible to water damage.
If the look of hardwood is something you desire, there is an alternative. Vinyl plank flooring is a popular option for residential use when a more durable alternative is needed. In addition to durability and low cost, there are a few other things you should consider before selecting vinyl planks for your home.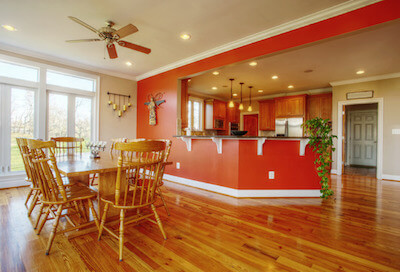 Flooring Quality
Like every type of flooring on the market today, there are good manufacturers and the not so good. Selecting one simply because of price can leave you regretting your decision from almost the moment it is installed.
The quality of vinyl planks is dependent upon thickness and wear surface. You'll find vinyl planks come in 2 millimeters on the low end to 6 millimeters and above on the high end. Look at warranty as an indicator. You should also pay attention to the scuff and stain resistant options for the urethane wear layer. Lower models may use a covering that mimics a urethane finish, but you want one that will continue to give you wear resistance for many years to come.
Flooring Installation
Vinyl planks can be installed by either gluing them down or floating them in place. Some have adhesive strips that overlap and secure the planks together during installation. Others click together and install like laminate flooring. Commercial grade is usually glued down with pressure sensitive adhesives, which makes them easy to replace if damaged. Select one that works best for the wear factor of your living arrangements.
Vinyl planks can offer you the look and feel of hardwood flooring without the maintenance that goes along with it. The key is in selecting a high quality vinyl plank that will give you years of wear. We can help you select the right one for you.