Ceramic tile is one of the most durable and maintenance free flooring choices on the market today. Its also one of the most beautiful. It comes in an extensive range of shapes, finishes, sizes, colors and shades, and can be used in many different ways.
Ceramic tile has long been considered to be multi-purpose, and can be used throughout the home, both inside and out. If you look back in time, you'll find ceramic tile being used in many ways for thousands of years. Its still as popular as ever, being used on: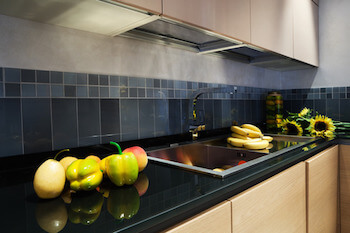 Floors
Walls
Countertops
Backsplashes
Patios
Fireplaces
Walkways
House trim
Keep in mind that with different styles and finishes, some are made for inside use, some for outside use. Before purchasing tile, be sure to let your sales consultant know what you have in mind.
Size
Ceramic tiles are available in any size of your liking. From tiny mosaic tiles, to tiles as large as 24"x24" square, size is only limited by what the area demands. The larger your space, the more uniform the look will be by using a larger tile. But it also depends on the overall look you are trying to achieve. In certain cases, you can find handcrafted tiles that will be perfect accents to your overall theme. Why not try a splash of color in the backspash above your range?
Finish
Ceramic tiles come in many different surface finishes: smooth, textured, glazed, unglazed, polished and unpolished. Keep in mind that not all finishes are suitable for every area of your home. A smooth, polished look may be great for a backsplash in your kitchen, but would be too slippery and dangerous for your bathroom floor. Be sure to choose the right finish for the area the tiles will be laid.
Shape
Ceramic tiles are available in many shapes, including rectangles, squares, hexagons, octagons, and more. However, square tiles are the most popular and are the easiest to work with without a lot of layout and planning.
Colors and Shades
Ceramic tile is a natural product; its color is derived naturally from the elements. But the more specialized look you desire, the more color you can find in your options. Manufacturers create ceramic tile in lots to minimize variation in color and hue; that way one batch will match as its used to piece together your room. Keep in mind that shade variation is natural even in lots and run numbers. This is to allow a natural look and keep a creative flow as you piece together your final pattern.