Think back to the coldest day this past winter. There was more than a chill to the air; you might argue you were chilled to the bone.
As homeowners, we're trained to drop the temperatures in our homes while we sleep or while we're away all day at work or school. Why pay to heat a place when you're not there?
But you start to think twice when your foot touches the floor, and that chill sets in a little deeper.
That's why underfloor heating – radiant heating – is growing in popularity.
According to a report by Component, Underfloor Heating Market, the underfloor heating industry sat at $2.53 billion in 2016, and is expected to rise to $4.23 billion by 2023 – almost doubling in less than ten years. Clearly, people want a better way to be comfortable in their homes, and underfloor heating may be the solution.
Why underfloor heating?
If you've ever experienced underfloor heating, you probably don't need a lot of convincing to know its a great option for your home. Imagine stepping out of bed on a cold morning and being greeted by warmth on your toes. Sounds great, right?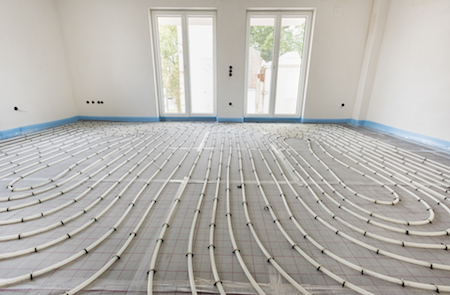 One of the biggest reasons people start exploring their options with radiant flooring is because of the comfort. It sounds great, and that's one of the best reasons to consider it in your options. But homeowners also find that it's a great investment, especially if they know they will be selling their home in the near future. Today's home buyers look for the little extras that separate a house from the pack. Underfloor heating can do that.
Of course, you can't just pick up your current flooring and through heating underneath. There are things you'll have to consider as you lay underfloor heating into place.
What type of flooring can be heated?
There are certain types of flooring that are more conductive than others. That's why it's important to explore your options first, make your best flooring choice, to ensure you gain all the benefits of what this type of heating system offers. Most people aren't surprised to learn underfloor heating works well under stone or tile, but did you also know you can lay it under carpet? You just have to learn the different types of radiant heating, and install the one that works best for you.
But before you look at types of underfloor heating, it's important to narrow your flooring choices and pick the best for your home and personality.
Stone and tile
We'll start with the obvious because, well, it's obvious. Stone and tile go hand in hand with underfloor heating. You'll never find a better match for the two. And you'll never be sorry for your flooring choice.
Both stone and tile have conductivity that makes them perfect for heating up as well as holding heat over time. You can use both stone and tile throughout your home, wherever you want warmth from the ground up: kitchen, bathroom, laundry room, family room, sun rooms, and more.
In most cases, if you install a thicker tile, it will take longer to heat up. But a thicker tile also has more mass and will stay warm longer than a thinner tile. Plus, tiles are already well loved because they are easy to maintain and come in so many different possibilities.
Wood and laminate
Here in Colorado, we love the look of hardwood. Maybe it has to do with being so close to nature. We want to bring all we love about the outside, inside into our homes. And what better way to do that than with hardwood flooring.
Most hardwood and laminate products are designed to take heat up to 80 to 85 degrees. Check with the manufacturer before you finalize your decision. But once installed, you'll be able to bring warmth to every room in your home and create the look you love in the process. This can be especially beneficial in cold basement remodels where you're looking to combine good looks and functionality. Laminate may be your obvious choice.
Vinyl
Today's vinyl flooring is soaring because of its beauty and maintenance-free qualities. What's more, technology has created luxury vinyl tiles that can mimic just about anything, from stone and tile to hardwood planks.
Vinyl flooring is also a great choice to lay over underfloor heating. Vinyl heats up quickly, giving you quicker results on those frosty mornings. They do have a lower threshold of temperature restrictions, so it's important to do your research and select the right option for your needs before you install it into your home.
Carpet
What may surprise you most is that you can lay underfloor heating below carpet. Your first step, if this is your choice, is to find a carpet that doesn't act as an insulator. This will block the heat, defeating the purpose of underfloor heating. Thickness is everything when combining these two options to heat your home. Pay attention to the heat and tog-value or R-value guidelines listed for both product lines.
What are the advantages of underfloor heating?
Most homeowners start looking at underfloor heating because of the warmth. It's appealing to have a warm floor on the coldest mornings of the year. But very quickly they learn there are a host of other benefits to installing radiant flooring as well.
Lower utility bills – by having heated floors, you'll feel warmer as your feet are surrounded by warmth. No more turning up the thermostat again and again as the heat from your vents and registers rise. Your toes will stay warm all day long.
No ductwork – it doesn't require expensive modifications to your home. Radiant flooring is installed directly to the subfloor, underneath your flooring, meaning out of sight, out of mind. You won't even have to worry about where vents and registers have to be placed.
Better indoor air quality – gas-forced heating and cooling means airflow is consistently pushed through the ductwork before entering each room. That has the opportunity to send dust, pet dander, pollutants, mold spores and more circulating throughout your home. With underfloor heating, it doesn't circulate the air, meaning less opportunity for allergens to flow freely throughout the air supply.
Uniform heating – with radiant heating, your entire floor is your heat source. It starts at the bottom and keeps you warm from the floor up. Vents and registers are usually only located in one or two places in each room, and work hard to blow enough air to adequately heat the space. It's continually overcompensating and mixing with the cold air to try and keep you comfortable.
Is underfloor heating right for you? 
The best place to start is by stopping in and seeing our complete selection of flooring. We'll point you to the best products that are perfect for underfloor heating.