If you've lived in Denver for any length of time, you know temperatures can vary significantly every month of the year. The coldest month is usually January, but that doesn't mean cold fronts can't cause temperatures to dip unseasonably low every month of the year. Even in the summer months, you might have to pull out a blanket to take away the chill in the air.
While our houses are built stronger, sturdier than in decades past, going green means using building materials to help conserve resources wherever possible. While your HVAC system is designed to heat and cool the air supply to your desired temperature, why not do what you can to warm your house in other ways?
Heat rises. When you heat air, the air around it expands. It decreases in density, and rises above the cooler air that falls underneath. In a house, that's why you'll usually find the warmest rooms in your home upstairs rather than downstairs in the basement. Every time your furnace pushes out heated air, it naturally flows upstairs. That can be a good thing in the wintertime when you're sleeping, and trying to stay warm.
Of course, this process also dictates the materials we use to put down on our floors. If you've ever stepped out of a warm bed and onto a cold floor, you've experienced this first hand.
While the HVAC in your home can control the overall living environment, your flooring dictates comfort level too. If your feet are warmer, you'll be warmer. What flooring is the warmest? Which flooring is best for you to install?
The obvious flooring choice to stay warm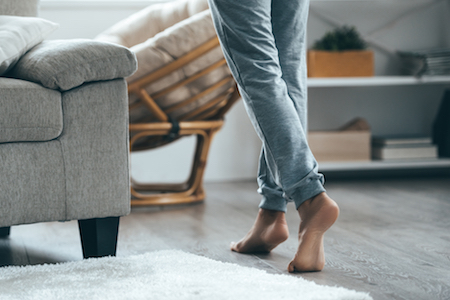 Let's start with the most obvious flooring choice to help keep your home as warm as it can be: carpet. Carpet is made up of plush fibers tufted into a fabric back. It's laid into place over a thick padding, which further insulates the flooring from the cold. It takes heat in and absorbs it, holding it in place to help keep your feet warm.
Carpet is a great way to keep your bedrooms warm. Carpet is also a great addition to family rooms, where you may lie on the carpet and play board games, or let your kids play with their toys.
But carpet doesn't work in every room of your home. Imagine carpet in the kitchen or bathroom … it's not going to work.
Vinyl flooring works to keep your room warmer too
If you desire to have a flooring that is more durable, water-resistance, and easy on the budget, you can't go wrong with vinyl flooring. What's more, today's vinyl flooring isn't what your parents had installed in their homes.
Luxury vinyl tile is available to mimic some of the most popular flooring choices in the world. It can resemble hardwood planks or stone or marble tile. In some cases, it mimics other products so well, even flooring experts have to move closer to see if it's real. Yet luxury vinyl tile is made up of several different layers, including a core layer that adds stability and warmth overall.
And because luxury vinyl tile is built in layers, including an insulator layer, it's softer than what you'd get with ceramic or porcelain tile. That makes it a great place where you frequently stand, including your kitchen or bathroom.
What if you want the more traditional hardwood?
While hardwood is a better choice for warmth than ceramic or porcelain tile, it's still going to be one of the colder flooring choices you can make. That's why you'll find most homeowners that have hardwood also install area rugs.
Area rugs add the warmth of carpeting without installing it throughout the room. You can stretch the area rug close to the edges of the room, leaving just a border of hardwood. Or mix and match throughout the room, using smaller area rugs to add a punch of color. Rugs are designed as much for decor as they are for their insulating capabilities.
Why not try cork flooring to increase warmth?
Coloradans love hardwood. It's by far one of the most popular flooring choices we sell. But if you're focused on remodeling your room to make it a warmer place to live, there's another option you should consider. Cork flooring looks like wood, but because of how it's produced, it has an insulating quality that makes it warmer.
Cork is an eco-friendly flooring option that has a springy surface. If sealed properly, it is stain-resistant, moisture-resistant, and can offer the same qualities hardwood does for your home. Because cork comes from the bark of a tree rather than the tree itself, its a more sustainable product – perfect if you're trying to live greener too.
Why stone or tile may be a great choice
When you think of adding warmth to your home through your flooring choice, one of the last that comes to mind is stone or tile. It's hard. It's cold. And you're most likely to find it spread throughout a home located in the hottest states in the country. Colorado isn't one of them.
But there is a reason why you might want to give stone or tile another look: radiant heating.
Stone or tile is the perfect choice for kitchens and bathrooms. It's one of the most durable choices you can make, especially where water resiliency is an issue. And if you include radiant heating underneath, it can be one of the warmest flooring options you can make.
Radiant heating works by installing a heating element on the subfloor before you lay the stone or tile in place. Think of it as a warming plate for your flooring. Then you control how much heat you use depending on the overall conditions outside. Remember, heat rises. So it's a great place to start warming your home. You'll love it on the coldest winter mornings, and you'll find yourself gravitating to those rooms instead of running away.
So what's your choice? What flooring is the warmest and the most beautiful to include in your home? If you need a little inspiration or help to select the right one, stop by, we can help. View our entire selection, and make the right choice for your home.