Marmoleum is linoleum, but it's not the drab flooring you'll find in older homes. Marmoleum comes in a variety of colors, styles, and patterns. Unlike vinyl floors, Marmoleum has no foul odors or off-gassing in your home's environment. It's an Allergy Friendly certified product. It's also SMART certified as a sustainable product.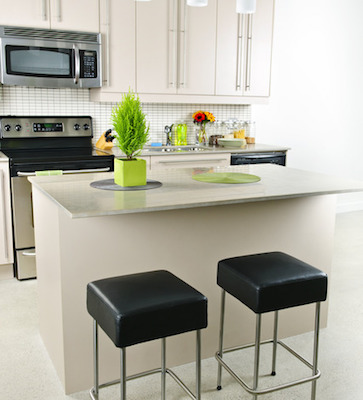 Why choose marmoleum?
It's a natural and sustainable product. It's made with natural ingredients without any harmful VOCs or other toxic chemicals. If you install it in sheet format, it's installed with solvent-free adhesives. If you install it with Marmoleum click, it's installed without any adhesive.
Marmoleum has no adverse health issues either in production, throughout its useful life, or through the disposal process. It's a flooring product that is soft to the touch and stays warmer than other products, including ceramic tiles.
It's natural bactericidal properties prevent microorganisms from multiplying. The anti-static properties of marmoleum not only reduce the potential for electric shock, but it also makes the floor cleaner because dirt and dust won't stick to it.
And if you're ready to make Marmoleum your flooring choice, you'll have fun with the design process. Whether you choose sheet, tile or click systems, you can be the designer. It's not a typical assemply line pre-printed process. You choose colors, inserts, and borders to come up with endless possibilities. From designing with simplicity to the use of daring colors and patterns, your flooring choice can be uniquely your own with this flooring choice.
For all these reasons and more, Marmoleum is the flooring of choice in homes, hospitals, medical offices, and many other places. Will it be yours?