Nothing is better than finally remodeling your home and getting everything you want.
That new kitchen you've been dreaming about? It's pure perfection.
The living space designed with your lifestyle in mind? Of course.
And beneath it all is the best flooring for your rooms. It looks elegant from the moment you walk in.
Then your four-legged friend comes running in from outside. He's a bundle of energy, and flies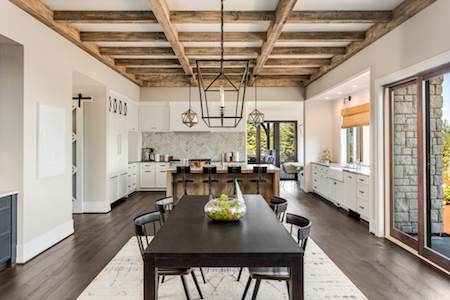 through your rooms as if the chase was on. He makes hairpin turns, runs around and around your kitchen island. And when he finally stops, and you assess the damage, you see wear and tear on your brand new floors.
How could you have avoided all that? What's the best scratch resistant flooring?
Pets are one of the hardest toughest forms of punishment for any flooring choice. They don't understand your goals of keeping your flooring looking new. Their muddy paws will track in all kinds of problems. And their nails are one of the biggest potential problems.
Even if you keep their nails trimmed on a regular basis, they can still cause a lot of damage. They can gauge marks into hardwood, or snap carpet fibers into an unsightly mess. You can try and keep it clean, but getting out stains and smells often make the situation worse. Do you really want to drag in industrial-strength cleaners to do the job well? The harmful effects are the last thing you want to subject your family and pets to.
What's a homeowner to do?
Is there a right choice for giving you the looks you want, while providing a safe environment for your pets, so they won't make a mess the moment your flooring is installed?
Luckily, there is. You'll love the choices you have for installing the best scratch resistant flooring into your home.
Tile
One of the best materials to use for your flooring if you have pets and high-traffic areas is tile. And because of today's technology, you have more options than ever before.
Ceramic tile is one of the most popular types of tile for the home. You'll find ceramic tile in kitchens, bathrooms, and entryways because it's easy to install, durable, easy to clean, and comes in many styles, colors, and patterns. If you're remodeling on a budget, ceramic tile is a great choice.
Porcelain tile gives you an elegant finish with the ability to emulate just about any look you desire. That's why it's grown in popularity over the past few years. If you've seen tile floors that look like natural stone, brick, or hardwood, it's porcelain tile that gives it its good looks. It's also perfect for inside/outside living as it won't freeze, fade, or crack.
If you're looking for natural, there are many options you can choose from. However, keep in mind that many natural stones like limestone and travertine are beautiful but softer than other tiles. They may be more susceptible to scratches and stains, something your pets dish out on a regular basis.
If you're dreaming of the look or hardwood but have put it off because of your four-legged friends, it's time to rethink your look and consider wood-look tile instead. You'll love that it wears well in all kinds of situations, and in many cases, you have to get down on the floor to determine it isn't the real thing.
Laminate
If your heart is set on hardwood, consider laminate instead. It's an artificial wood product that's both durable and resilient.
Laminate flooring is a multi-layer product that is fused together by a lamination process. The bottom layer is designed to give it strength. The inner layer is usually a melamine resin and fiberboard used for durability. The photographic layer gives it its classic good looks. The top layer is a clear-coat protection so that the photographic layer stays protected.
Laminate has grown in popularity for a variety of reasons. It's easier to install than hardwood, being able to be laid with a click and lock into place construction system. It floats over the subfloor rather than have to be nailed or glued into place.
That makes it more forgiving when being installed, being able to be applied over a variety of subfloor situations. It requires less skill, meaning it can be a DIY project if you're looking to save even more. There are also several hygienic brands on the market that can provide you with a safer, cleaner flooring choice if you're worried about your family's health.
Luxury Vinyl
Luxury vinyl is also growing in popularity because of its looks and durability. This isn't your mother's vinyl. Instead, it's designed with both fashion and durability in mind.
Why so popular? Because you can choose luxury vinyl to mimic hardwood planks, yet be more functional and affordable in the process.
The biggest advantage vinyl plank flooring has that makes it so popular is because it is 100 percent water resistant. That means any surface spills won't affect the flooring. That's a pretty big benefit when dealing with pets. If you know you can wipe away any mishap without a problem, it pushes it up the list.
If you have a lot of traffic or are worried about the effects your pet can dish out, you can upgrade to commercial grade, to ensure your flooring is even more durable. No matter what your final selection is, you'll know it's easily maintained with regular sweeping and an occasional swipe of a mop.
When most people think of vinyl, they tend to think of the soft floors from their parents' era. While vinyl is still more friendly for standing and walking on, advances have also made the core level more rigid for a stable, sturdier construction. If you choose a thicker material, it's more forgiving when installed on the subfloor. If you have small problem areas, luxury vinyl might just cover them up. It's important to talk with your flooring consultant before you make your final selection to ensure it's a perfect fit for your conditions. That will ensure you have a long lasting product that will look great throughout the years.
It's time to install – what'll it be?
Are you ready to put scratch resistant flooring into your space? Which choice will it be?
Tile, laminate, and luxury vinyl are all perfect additions to any home with pets. Whichever you choose, you're going to love your flooring for years to come.