Every time you drop something on the floor, you might find yourself dreaming of waterproof flooring.
Do a little research and you'll find waterproof flooring is alive and well in the marketplace. But what does that really mean?
Living with waterproof flooring in rooms where messes often occur sounds perfect. But is waterproof flooring really a thing?
Every homeowner knows that water can be one of the most destructive forces you'll ever deal with. It's an invasive resource that can start small and bring surmountable damage as it moves along a path. It can compromise roofing, siding, drywall, and flooring. If you don't catch it, it will damage pretty much everything.
That makes waterproof flooring sound perfect. But is it?
Waterproof or water-resistant? What's the difference?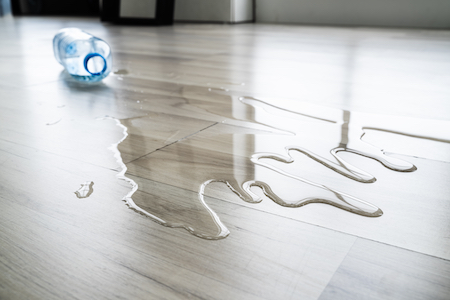 This is one of the most misunderstood marketing claims you'll find on flooring products. And different manufacturers use these terms almost interchangeably in some cases. They are not equal terms.
In the simplest terms, the two terms are fairly easy to understand.
Water-resistant means the material can withstand or resist water for a period of time. Eventually, it will be damaged by standing liquid or water.
Waterproof is impervious to water. It will stand up to water indefinitely, and remain in its original shape without damage.
This is where things start getting a little tricky. The flooring itself may be waterproof. But what's around it may not. If moisture seeps down into the subfloor, which is not waterproof, the damage could occur from the bottom up.
Where to install waterproof flooring
There is no end to where waterproof flooring will be beneficial inside your home. That said, there are specific rooms where waterproof flooring will be a welcome addition.
Any place that sees a lot of traffic, and has the potential for messes and spills is a good candidate for waterproof flooring. Bathrooms, mudrooms, laundry rooms, kitchens, entryways, even basements are the perfect place to install waterproof flooring. Instead of jumping at the first sign of moisture, or worrying about a spill your kids tried to cover up, you'll have peace of mind knowing it'll return to normal simply by wiping it up. That can be a big plus for busy families with lots of traffic.
Here in Colorado, many homes are built with basements below ground. While it's great to add the extra space, it can be worrisome trying to pick out the best flooring. There's always potential for a flood. With waterproof flooring, you'll have less worry. And if water does seep in, you might be able to act fast, pull up the waterproof flooring, fix the leak and the subfloor, and put the waterproof flooring back in place. Being waterproof can make it savable if you act fast.
What types of waterproof flooring are there? 
Because the benefits are clear, manufacturers are spending more time and energy developing waterproof flooring options than ever before. What's more, you don't have to skimp on beauty in order to achieve a waterproof living space.
Tile
There's nothing stronger and more durable than tile. It's stood the test of time for centuries, and continues to be a great waterproof choice in our modern world. When installed, grouted, and sealed properly, water can sit on the floor indefinitely without any issues. You can find tile at any price point, and create a good looking space in every room in your house. That's why you'll find tile being used in residential and commercial applications.
Step into any bathroom, and you'll find tile used in many design elements. It often moves from flooring to shower walls, and even across the vanity.
If you want natural tile, consider travertines or granites. Tile is being used in kitchens, family rooms, and even moving to indoor/outdoor living spaces. It's a great way to continue the continuity throughout your home, whether you spend time with your family indoors or out.
Vinyl
Moving quickly up the ladder of popularity is vinyl. This isn't the vinyl product you remember from your youth.
Luxury vinyl is built to resemble the most popular flooring choices on the market. You'll find luxury vinyl planks that look just like hardwood, and luxury vinyl tile that resembles natural stone. The only difference is it's waterproof and more durable than the materials it mimics.
And because it's at a lower price point, it makes sense when you're trying to stick to a budget. If you want a simple solution that you can install yourself if you choose, luxury vinyl may be the perfect product.
Don't forget sheet vinyl; it's waterproof too. And because it comes in rolls up to 12 feet wide, there are fewer seams when you have a smaller room. This provides fewer opportunities for moisture to seep into the subfloor. You'll find sheet vinyl in many different colors, patterns, and styles. Whether you want to stick with subtle or move into a bright pattern that has you reminiscing about childhood, you'll find it in sheet vinyl. It's one of the most economical flooring choices available today.
Laminate
Nothing beats the look of hardwood. That's why so many products mimic it, trying to look like the real thing. Luxury vinyl planks have grown in popularity for this very reason.
But when you want to move even closer to the look and feel of hardwood, laminate might be a perfect choice. Keep in mind that not every laminate is the same. Some may be waterproof while others are only water-resistant. Be sure to do your research well to ensure you purchase what you truly desire.
While not the strongest waterproof product on the market, it does a pretty good job for everyday messes. While it will easily stand up to kitchen messes and a dropped glass of water, a flooding dishwasher may force laminate beyond repair. This is where it's important to know your lifestyle, and understand the product most likely to give you the results you're looking for.
Want waterproof flooring? 
There's a flooring product for you. Stop by today and see all of your options. We'll help you make the right decision to suit your needs.