Thinking of installing hardwood flooring throughout your home? Congratulations. You're going to love the look.
However, selecting the right hardwood flooring is more than deciding what tone or hardwood shade. It's also about determining what direction to install your hardwood flooring.
It might seem like an easy decision at first. We've found many customers haven't even given it much thought. But how you install it will set the stage for decor and ambiance. And you'll be living with this choice for a long time.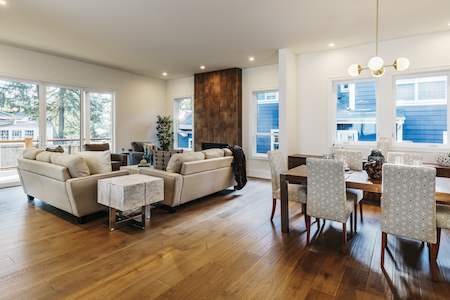 Before we get into deciding the best direction for your taste, let's define them first.
Straight or Vertical
The most common installation method for hardwood flooring is straight, or vertical. You choose to have your hardwood flooring installed according to the length or width of your room. This is a classic pattern because it's one of the easiest to install. It works in any home, any room, because it has a contemporary feel. And since it works with the flow of your room, it's also one of the easiest, least expensive ways  to install.
Horizontal
Whereas straight or vertical installations run the length of a room, a horizontal installation plays on the narrower section of your room. This can help in a room that feels closed in, where it's narrower than it is long. By installing the wood horizontally, it draws the eye from side to side, adding depth.
Diagonal 
Instead of staying with the length or width of a room, a diagonal installation will add uniqueness and elegance with just a tweak to the classic straight direction. Diagonal floors are laid at a 45 degree angle to the room. That means boards will run across your room at an interesting angle, giving style and ambiance in a unique way.
Herringbone
It's hard to miss the sophistication of a herringbone design. This is where planks are laid diagonally in a zigzag pattern to add more whimsy to the design.
Custom
The great thing about hardwood installation is there are an infinite number of ways to do it. Try mixing different widths together. Or mix different shades, styles, or materials. While this might not be something you try as a DIYer, if you're open to ideas, one of our consultants can help you imagine big. Doing something with a twist off the norm, and give your space even more appeal.
Now that you know there are many different possibilities for laying your hardwood flooring into place, what should you consider as you make your final selection? There isn't a right or wrong direction to install hardwood flooring. But there are a few rules of thumb to keep in mind.
Where are your room focal points?
Every room has one feature that stands out from the rest. It might be a large fireplace that commands attention. Or a wall of glass windows. Or even an archway that leads to the next room. Chances are you commented on it when buying your home. To make the most of that focal point, have your hardwood planks lead to that spot. They should lead right into the fireplace, or guide you through the opening.
What are your light sources?
Does your room play off natural light? Or do you rely completely on artificial? Think about the direction of light and the way it flows throughout the day. Depending on how you play with the light, and the direction of your hardwood, will determine the visual impact of the room. It can help lengthen your room, make it feel more wide open. Or it can help shorten and add coziness factor to the room.
One room or many?
Will you be laying hardwood in one room, or extending it through multiple rooms in your home? There are a few things to keep in mind before ordering and scheduling your installation.
If your room is one large area, lying it straight from end to end can create sweeping views. If you have nooks and corners that lend to breaking up the flow, laying hardwood straight is a little more difficult. You can use thin strips to break up the pattern and give dimension to each room. This also allows you to change direction, when necessary, to create a pleasing look. You can also consider diagonal or herringbone pattern to further add ambiance and to take the emphasis off problem areas that might not be easy to attach.
How should you handle hallways? 
Hallways are the narrowest places in your home. When you install them the long way, outward from the openings, it will add dimension to your space rather than leaving a choppy appearance. It's also easier for the installation process, to use your hardwood planks in the most efficient way.
What about structural issues?
Every house is different. That's why it's important to talk with a flooring consultant before you finalize your decisions to ensure you have thought of everything you'll need to do the job the right way. Your wood floors should always be installed perpendicular to your floor joists. This makes your flooring structurally sound and will prevent your hardwood planks from having structural damage later on, such as sagging, buckling, or separating.
Consider your subfloor as well. You'll need different installation methods depending on if you're installing over concrete or wooden subfloor. Nail down is different than floating planks.
You should also lay out your floor plan in detail before you shop. Keep in mind special circumstances that will influence your installation process, such as closet space, uneven walls, staircases, and anything else that makes your home unique.
What about design?
There are certain parts of your home that lend to more creativity than others. Want to create an elegant, formal dining room? Why not use direction to create the right ambiance? You can change colors, or add mosaics or other patterns to clearly define the space. Or how about adding flair to your kitchen? You can play with direction, especially as you move around islands or into breakfast spaces.
Need more ideas to select what direction to install your hardwood flooring? Stop by today. We can give you all the tips you need to create the home of your dreams.