Nothing can be more exciting than remodeling. You've lived with your current furnishings for years. You've been dreaming about your new rooms for years!
Yet remodeling can be the start of overwhelm too. Where do you begin? What should you start with? Is there a room order for replacing flooring? Do you start with the floors … or paint the walls first? So many questions …
Luckily, we have answers.
Top to bottom, where do you start?
You have a new room in mind. Remodeling can be as easy as installing new flooring, to a complete renovation of the entire room, top to bottom. Want new cabinets and countertops in the kitchen? Want new colors and decor? Your flooring will set the stage for all to come.
The first part of any project is to remove the old from the worksite. If you're taking out old cabinets and countertops, that's the best place to start.
But as you're adding new materials back in, it's often best to start with the floors. That's because floor removal can be dirty work. Pulling out old hardwood, ripping up vinyl, or removing old carpet can pull up dirt, dust, contaminants, and more. It can damage baseboards, scrape up new paint, and leave debris in the path.
Depending on what flooring you're installing, it can also be a messy process. Installing hardwood may mean sanding down the boards and placing a protective coat in place. It's better to do this first than to add the finishing touches, only to redo it again.
Bottom up is often the best place to start.
What room should you start in?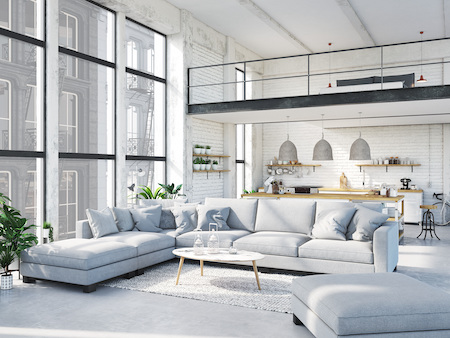 You're ready for a change in a big way. A new kitchen. New living space. Even a new bedroom.
But it all can seem a bit overwhelming. Where do you start?
The best room order for home remodeling is first to start with the high-traffic areas. This ensures you finish the most popular areas of the home first before tackling projects in areas used less often. Once these areas are completed, it's time to move to the bedrooms and bathrooms next.
It's equally important to think about flow. How does your floorplan lay out as you walk in the front door?
Designers often recommend no more than three flooring materials within a home. Too many changes can disrupt the flow, and make it too hard to transition.
What does that mean for you? Start with your main living space. Do you imagine hardwood throughout? Do you want something easier to maintain?
Because main living spaces are most subjected to wear and tear, this is a time for you to think and plan for what your household needs most. Are you an empty nester who likes to throw parties? Do you have a growing family filled with kids and pets? Let that help you decide on which material is the best.
Main floor living
Living room. Dining room. Family room. Kitchen. These areas see the bulk of your time together as a family.
That means the flooring should stand up to all your family can dish out. Consider your daily routines and activities.
Of course, main floor living spaces often include even more. Mud rooms. Laundry rooms. Media rooms. Home offices. While a door may separate each room, flow is still important to create a conducive living space.
Hardwood often comes out as the clear winner in these spaces. But even the concept of hardwood has changed a lot over the years.
Traditional hardwood is always a great choice for residential living. Not sure about the upkeep and maintenance requirements? There are other ways to get the same look, only giving you additional benefits for ease of use.
How about engineered hardwood? While engineered hardwood is at its core hard wood, it offers a special protective veneer that gives it added strength and durability.
How about laminate. While it's made from composite materials, its strength sets it apart. This isn't the laminate of yesteryear. You'll love the look. And if you're worried about durability, this may be the perfect compromise.
Looking for something waterproof? Give luxury vinyl planks a try. These products are growing in popularity because of their function and good looks. Even experts have to take a second look to determine it's not natural hardwood.
There is even an opportunity to lay tile on your floors and still have the look of traditional hardwood. It can be a perfect addition over radiant heating as a way to liven up your bathrooms or laundry space.
Secondary spaces – bedrooms and basement
When you step into your bedroom late at night, you want a different vibe than what you have in your living space. Softness. Peaceful. A quiet retreat. What feels natural in the kitchen or family room wouldn't work as well in the bedroom.
That's why carpet still reigns in the bedrooms. There's just something about getting out of bed and wiggling your toes in natural fibers. On a cold winter morning, nothing feels quite as good.
This is your space. It's a chance for you to let your creativity shine. Want to go a little bolder? A bright color may be just what you're looking for. A bright blue, green, or red may accent your personality perfectly.
Basements present a specific challenge in that they are subjected to below-grade living. Is water a problem? Has your home settled in the past? Hardwood may buckle and warp. Carpet can easily be saturated.
Below grade makes flooring choices like laminate or luxury vinyl planks perfect. They stand up better to moisture, and are better at preventing things like mold and mildew.
Of course, it's wise to pay attention to the subfloor too. Adding in moisture barriers can help your flooring stay better, longer.
What's the best flooring to suit your needs? 
Start with the highest traffic areas if you're ready to remodel your home. It'll give you a sense of accomplishment as you see the final touches fall into place.
Flooring is a personal choice. What you choose should be based on your needs.
If you have any questions about finalizing your choices, give us a call today.