As homeowners, we're always looking for great deals. Why pay full price when you can get something on sale?
That said, some decisions are more important than others when it comes to upgrading your home. A sale on paint? Sure, why not? You know the gallon you bring home meets certain standards.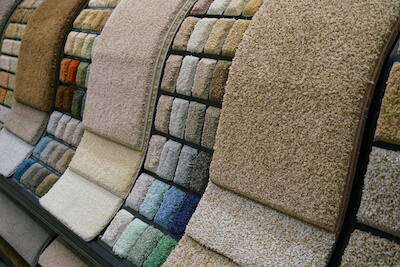 But what about carpet?
Carpet is the perfect choice for many rooms in your home. It adds warmth you can't get with other flooring choices. It adds comfort; the soft, luxurious feel is perfect underfoot. We often suggest carpet for places where coziness and comfort are important: living rooms, bedrooms, even hallways. Carpets act as a thermal insulator, so they'll help you save money on your energy bills in the winter. That means with carpeting in the bedrooms, you can turn down the heat a notch or two in the wintertime on cold, winter nights.
Carpeting is also the best for reducing noise. Carpeting absorbs vibrations. That means you won't hear the "clomp" or "thumps" associated with other types of flooring. It also helps produce a crisper, clearer, more transparent sound, making it perfect for your home theater or music room.
Carpet also provides the safest environment. If you have children or older adults, carpet gives you the added security of being able to brace their falls. The cushion and sponginess of carpets help reduce the risk of slipping. And if they do fall, they are more likely to bounce back up without severe damage.
Carpet can also provide durability at a lower cost. Carpets today come with a wide array of features, including stain-free treatments that make spill removal possible and make stains less penetrable within the fibers.
Sounds good, right? Are you sold on carpet? What about at a discount?
The key is sticking with a reputable dealer who will ensure the quality of the work. It also depends on the area you wish to carpet.
If it's just one room, you can find a wide variety of options, some at deeply discounted prices.
Don't be afraid to ask for options. If you have something in mind, a reputable dealer is willing to work within your guidelines. They know more about their product line than anyone. Ask questions and get the very best you can for your home.