It sounds simple enough; your flooring is worn out and you want to buy new carpet. But it won't take you long to realize that things have changed since the last time you installed new flooring.
You can shop online. You can shop your local big box store. You can call one of those independent contractors who offers a good deal on a local television commercial. Or you can shop at your local flooring center (like us!) – what's a homeowner to do?
We have some advice for when you're ready to buy new carpet and aren't sure what your next step should be. Read through our "checklist" and you'll discover the best way to buy flooring and love the results at the same time.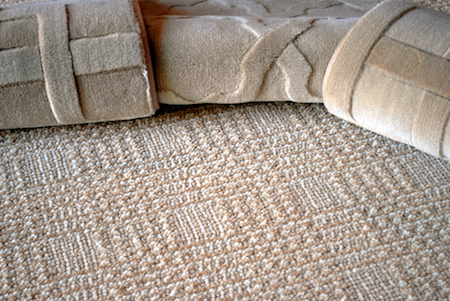 Let's start with the "who"
With so many choices to choose from, how do you know where to shop for your flooring upgrade?
Shopping online for new carpet is dangerous. Carpet is a purchase you make only a few times in your life. If you install the right carpet, you can forget about it and enjoy it for years to come. Do you really want to install something you can't see, feel, and touch before you say "yes"?
Of course, your local big box store has a wall of carpet samples tucked in back between the plumbing and lumber aisles. They'll likely tell you these are "best sellers" and we agree. When you don't sell very much, the few in stock are definitely going to be best sellers. But are they the best for your home? What will you compare it to?
Independent contractors work the same way. Sure, they make it convenient by coming to you. But their selection has been pre-chosen to ensure they get the best markup in order to make the living they desire.
And then there are flooring experts (like us!) We scour the world for the best flooring on the market. We pay attention to things like longevity and sustainability. Because flooring is our only business, we ensure that what you see on display truly is the best in the business. We can help you select based on your needs and desires.
When should you buy your new carpet?
The most important question is: when will you need your new carpet?
Do a little research, and you'll find all kinds of "experts" making suggestions for when you should buy new carpet. Buy during the slow times, they say. Buy when you can negotiate a great deal.
And while that's great advice, the more important thing is: is this the right time for you?
In general, you'll find people shopping for carpet more right before the holidays, right around tax refund period, and during the summer months when most remodeling projects kick into high gear.
If you're a fashionista and you replace your carpet every year, then by all means, watch for the best deals possible. Quality might not matter as much to you as price.
But if you want the best carpet your money can buy, and you won't be replacing it again for years, focus on what matters most: quality.
What does quality carpet mean?
Quality and durability tend to go hand in hand. And most often, that includes key factors like materials used, construction, and fiber weight.
This is where you should spend your time comparing the different samples before making your final decision. Once you've narrowed down your choices, ask about carpet specifications. This includes:
Fiber type
Pile height
Tuft-twist rating
Pile density
Pile weight
You should also focus on manufacturer and warranties – what will your carpet be covered for in the months and years to come? These specifications help you determine how durable your carpet will be over the lifespan. If you don't understand something, ask.
A word about shopping around
Our modern age makes shopping around easier than ever. When you find a product you like, Google it. You can find the best deal possible with just a few clicks of your mouse.
But there's a big difference between comparing toasters and carpet. Carpet isn't something you can have delivered to your door and start using immediately. Instead, you have a lot of transactions invested in the process:
Select the right carpet
Ensure measuring is accurate
Buy the right padding
Ensure the right subfloor is in place
Hire the right installer
Ensure the carpet is installed correctly
Understand the warranty so it's not null and void from the getgo
Think you can do all that by ordering online?
Be aware that the price a company quotes you most likely is for carpet alone. Until you see the final quote – one that includes all the extras for having it installed – you aren't seeing the full price.
There's also the matter of customer service. Will you have problems with the installation process? Will you get your questions answered along the way? Will they be there for warranty work if something goes wrong? Good old fashioned customer service can be very important – have you found the right company that will stand behind the process from beginning to end?
Shop the smart way when buying new carpet
In the end, this is all about you creating a warm, comfortable living space you'll enjoy coming home to day after day. The most expensive carpet you'll ever purchase is one you didn't like almost from the moment you picked it out.
Don't compromise on the things that matter. Quality ensures longevity. If you get a carpet you really like, it'll be a great purchase.
If you have your heart set on carpet a little above your price range, consider installing in stages. Start with bedrooms and stairs, then have living space installed later. Talk with your customer service rep about transitioning between rooms to ensure a solidified look.
Then when you're ready to make your final choice, ask the salesperson for the spec sheets and samples. Bring them home and compare them in the light. Think about which will be your best choice overall.
Are you ready to buy new carpet this year? Stop by today and see what we have to offer you.