You have a pet. You love your pet. They're a part of your family.
Yet you cringe when they start running circles around your living space. You know there will be scratch marks, wear marks, rips, and tears. Your old flooring screams "you own a pet," but is there an alternative?
That might be why you've put off remodeling. Why install new flooring when you know it'll quickly be damaged and look tired and worn?
Still, you're ready for a fresh new look. Maybe it's time to choose flooring that better suits your lifestyle. Is there such a thing as pet-friendly flooring? And if so, what should you choose?
Tile flooring
Tile makes a great choice for homes with pets for several reasons.
First, it is extremely durable and can withstand the scratches and spills that come with pet ownership. This means that it can take whatever your pet can dish out. Additionally, tile is easy to clean and maintain, which is important as your pet makes messes. All you need to do is sweep or mop it regularly to keep it looking fresh and clean.
Tile is also a good choice because it is non-porous, which means that it will not absorb liquids or stains. This makes it much easier to clean up any messes that your pets may make, and also helps to prevent the growth of bacteria and germs. This is particularly important in areas where your pets spend a lot of time, such as in the kitchen or living space.
In addition to its durability and ease of cleaning, tile is also a great choice for pet-friendly flooring because it comes in a wide variety of colors and patterns. This means that you can choose a tile that matches your decor and personal style, and that will look great in your home. If you haven't looked at the patterns and textures available lately, you'll be pleasantly surprised. Plus, because tile is so versatile, it can be used in any room of the house, including high-traffic areas.
Luxury vinyl planks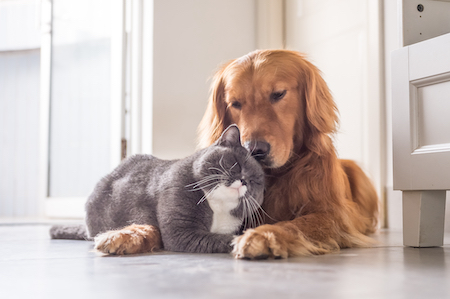 If you own pets, using luxury vinyl planks (LVP) as flooring can be a great choice. LVP is a type of vinyl flooring that is designed to mimic the look of natural materials like wood and stone. It is durable, easy to clean, and resistant to moisture, making it ideal for households with pets.
One of the main benefits of LVP is its durability. It is made from layers of vinyl and a protective top coat, which makes it resistant to scratches, dents, and other types of damage. This means that it can withstand the everyday wear and tear that comes with having pets in the house. Additionally, LVP is easy to clean and maintain. It can be swept, vacuumed, or mopped, and is resistant to spills and stains. This makes it ideal for households with pets, where accidents are more likely to happen.
Another advantage of LVP is its moisture resistance. Unlike other types of flooring, such as hardwood or laminate, LVP is not susceptible to water damage. This is important in households with pets, as they can sometimes have accidents or track moisture from outside. LVP can also be installed in areas of the house where moisture is more likely to be present, such as bathrooms and kitchens.
In terms of aesthetics, LVP offers a wide range of design options. It is available in a variety of colors, patterns, and textures, so you can choose the one that best matches your home decor. This allows you to create a beautiful, stylish, and cohesive look in your home, even if you have pets.
Laminate
Laminate flooring can be a great option for pet owners because it is durable and easy to clean. Unlike carpet, which can harbor pet dander and stains, laminate flooring is a solid surface that is resistant to scratches and spills. This makes it a perfect choice for homes with pets that are prone to accidents or have sharp claws.
One of the key benefits of laminate flooring is its durability. Natural wood or soft stone can be easily damaged by pet claws or heavy furniture. Laminate flooring is made from a high-density fiberboard that is resistant to wear and tear. This tough, inner core gives it added strength as protection against all your pets can dish out.
In addition to being durable, laminate flooring is also easy to clean. Whether your pet has an accident, tracks in dirt or debris, or simply sheds its fur, laminate flooring can quickly be swept, mopped, and wiped down with a damp cloth. This makes it ideal for pet owners who want to maintain a clean and hygienic home without spending hours vacuuming and scrubbing.
People also appreciate laminate flooring for its affordability. It is generally less expensive than natural wood or stone, making it a budget-friendly option for pet owners who want to upgrade their floors without breaking the bank.
Laminate flooring is available in a wide range of styles and colors, so you can choose a design that suits your personal taste and décor.
What's the best flooring choice for you if you have pets?
When it comes to flooring, let your personality lead the way. That said, you can already predict the flooring choices that fall to the bottom of the list. Hardwood flooring and carpet are notoriously difficult flooring choices for pet owners. Hardwood can be easily scratched and dented, especially with active pets.
Carpets are prone to stains and damage. They don't do well with repeated impact from moisture. While carpet can provide a soft spot to lay for naps throughout the day, only you know the habits your pet has and how well it will handle under pressure.
Selecting flooring is always a highly personalized choice. It should be based on your likes and personality, as well as your everyday lifestyle.
Take a look at your current flooring – why are you upgrading? Use that as your guide to finding the perfect flooring for you.
And if you have any questions, give us a call. We're happy to make recommendations, and help solidify the best option for you.
With so many flooring choices available today, technological advances offer something for everyone. There's a new flooring material waiting for you.