No matter how big or small your bathroom is, there's a place for ceramic tile.
In fact, from a global perspective, ceramic tile is one of the most popular flooring choices you can make. And the demand is expected to continue growing.
And who can argue that ceramic tile is one of the best flooring choices you can make, especially in a bathroom. Bathrooms are tough on just about every material you put into it. It must withstand humidity and moisture. It has to ensure messes and spills. And it has to be easy to clean and easy to maintain.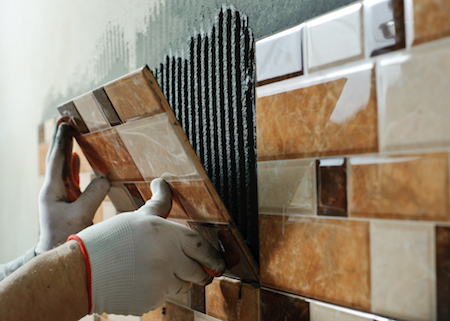 That makes ceramic tile the perfect choice for your space.
Need a little inspiration? Let's start with a few important reasons why you should consider ceramic tiles.
Ceramic tile is affordable
The very first reason many homeowners start looking at ceramic tile is because of its affordability factor. It can be more affordable than other popular choices, such as porcelain, stone, marble, or quartz.
Like everything, you get what you pay for. But with ceramic tile's affordability factor comes a wide array of options. You can find any color, pattern, size, or style you desire. You can mimic some of the popular flooring choices like stone or wood. You can intermix the tile for a look that's truly your own.
The one thing you'll never get with ceramic tile is boring. There are unlimited possibilities when working with ceramic tile in the bathroom – all at a price that's easy on the budget.
Ceramic tile is strong
Your bathroom floors take some of the most abuse anywhere in your home. They face daily humidity and moisture, They deal with wet towels and lots of lotions and potions. They have to be strong, day after day, month after month, year after year.
What makes ceramic tile strong and durable is the way it's made. Most ceramic tiles are made from white or red clay, formed, fired in a kiln, and finished with a glaze. Because they are manmade, they come in any style or pattern you can imagine. That's what makes them so popular.
However, to keep the finish strong and durable, it is recommended that you use a suitable cleaning solution made for ceramic tile. To keep its finish looking good for years to come, ensure you clean it in as mild of was as possible.
Ceramic tile is waterproof
We've hinted to it several times in this post. One of the biggest reasons ceramic tile is perfect for the bathroom is because it's waterproof. And the bathroom is notorious for moisture, so it's a perfect fit.
Whether your kids splash water out of the sink and on to the floor on a regular basis, your tub or shower leaks water over the edge, or an occasional overflow problem with your toilet, your ceramic tile will never show the wear.
Just be sure you clean all messes up as quickly as possible. If your tile is installed the correct way, there shouldn't be a problem. That means proper installation, grout in place, caulking sealing all of the edges – that ensures water stays on top and doesn't seep down underneath.
Ceramic tile can add depth and ambiance
With many flooring choices, what you see is what you get. Luckily, that's not the case with ceramic tile.
Ceramic tile is often made with different textures. When you install them in the bathroom, they can add depth and character. Because they come in a wide array of sizes, you can mix and match and create just about any pattern imaginable. You can create ambiance just by focusing in on specific areas of the room. Highlight by using different tiles around the baseboards. Or changing colors by a tub or shower. You can even take tile up the walls, and create an entirely new look and feel. All you have to do is use Pinterest as your guide, and you're sure to find your inspiration in no time.
Ceramic tile is easy to install
With some flooring choices, your floors will have to acclimate before you can proceed with installation. Not so with ceramic tile. Remove old flooring, and you're ready to go.
Ceramic tile is easy enough some homeowners prefer to make it a do-it-yourself project. We can help you make the right selection if that's your desire. If you want to let a professional install it without worry, we can help you with that choice as well.
Ceramic tile can add warmth
That's probably not the benefit you expected. Ceramic tile is known for its coolness factor. Tile is often used in the hottest climates in the world because it stays cooler underfoot.
Yet ceramic tile is the perfect companion to radiant heating. If you want warm floors on a cold morning, nothing pairs better with radiant heating than ceramic tile.
In fact, you might love the feeling of warmth underfoot so much that you expand where you install ceramic tile in your home. Once homeowners discover the benefits of having radiant heating, many start adding it to other rooms in their home. Like the kitchen. Or the laundry room. Or even your living space.
Is ceramic tile the best choice for you?
Yes, we love ceramic tile a lot; it's one of our favorite flooring choices because of the number of ways you can use it throughout your home.
If you would like help deciding if it's the right choice for your remodeling process, stop by, and have a look.
We assure you you'll find the perfect look at a reasonable price. And because you can install it quickly into your home, you can have it in place whenever you desire.
Are you ready for ceramic tile in your bathrooms?