More than ever, sustainable living starts at home. Why not start at the bottom … installing green flooring sets the stage for every eco-friendly item you bring into your living space. 
According to a report by the New Climate Economy, we could save as much as $26 trillion by 2030 if we move to more sustainable living.
As a population, we are only starting to realize the impact we can make even through small changes. A study by Southern Cross University found that 93 percent of all those surveyed indicated a general concern for the environment. With wildfires, plastic pollution, climate change, and more at the forefront of everyone's minds, we all want to do what we can to make a difference. 
Sometimes the best place to start is at home. 
What is sustainable living?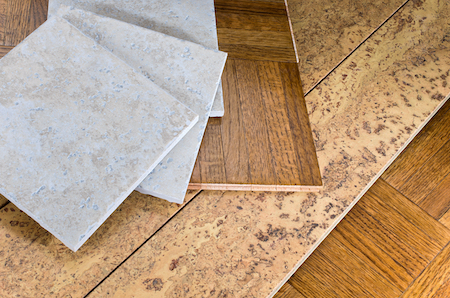 According to Wikipedia, sustainable living is a lifestyle that attempts to reduce an individual's or society's use of the Earth's natural resources, and one's personal resources. It's also known as net-zero living. 
In practice, it's about reducing their carbon footprint. It includes altering home design and  transportation methods, energy consumption, and everyday living consumption. 
How does this differ from green living?
Green living is a lifestyle choice. It's about making conscious choices that preserve and conserve the Earth's natural recourse and habitats. They are done so with an environmentally ethical, eco-friendly outcome in mind. 
Green refers to environmental movements in general, while sustainability has clear-cut guidelines to put into practice. You strive for sustainability after you start bringing green living practices into your life. 
How does green flooring play into all of this? 
Choosing to increase green living means becoming more aware of the products and materials you bring into your home. 
According to the US Green Building Council, as you're building or remodeling a home, going green allow you to:
Increase energy savings

Increase water efficiency

Reduce CO2 emissions

Improve indoor environmental quality

Select resources based on their impact 
When selecting green flooring, it means paying attention to:
How the flooring is manufactured

Where the resources come from

What production looks like

How the manufacturer approaches eco-friendly processes

The impact of the flooring once it's brought into your home
Bamboo flooring is an excellent example of green flooring. It's environmentally friendly because of how fast it grows. A bamboo grove can yield 20 times more timber than trees in the same location. It will also release 35 percent more oxygen in the process. And all of that can occur without the use of fertilizers and pesticides. 
What to look for in green flooring choices
Before you start looking for the right flooring choice for your home, it's important to define exactly what to look for in an eco-friendly option. 
First, start with the manufacturing process used to create the flooring before it ever winds up on the retailers' shelves. You're looking for an option that offers natural and renewable resources. 
This can be subjective, depending on your goals and desires. Bamboo is eco-friendly in that a single bamboo tree can be harvested in three to five years. Compare that to a standard tree used in hardwood flooring production, requiring 40 to 60 years before harvesting. 
That doesn't make one ultimately better than the other. It still requires research on your part to determine ethical practices all around. Trees used for hardwood flooring can be sustainable if the manufacturer cares about the process. The Forest Stewardship Council (FSC) is a certification program that ensures wood is harvested legally and sustainably. It certifies the wood comes from responsibly-managed forests. That gives you knowledge of knowing you're selecting a manufacturer that cares about the process, and gives you a product that will stand the test of time. 
Next, pay attention to the life cycle of the flooring you're installing. Even if you install a floor made from natural materials, if it needs replacing every few years, or requires unhealthy practices for installation or removal, it can fall off the sustainable list. 
In the case of hardwood flooring, for example, while it can take upwards of 60 years for the resource to be harvested, once it's installed in your home, it can last for decades. With proper care, your hardwood can be a great flooring addition for many years. You can refinish it and give it new life when it starts wearing down. Even if you remove it, hardwood can often be recommissioned and used in other ways. It's a product that keeps on giving. 
Hardwood also has the advantage of being biodegradable. If it winds up in the landfill, hardwood breaks down naturally over time. Of course, this is dependent on chemicals used on the surface. But in its natural form, hardwood is a great green flooring option. 
Finally, pay attention to the toxic chemicals in your flooring. This includes the entire life cycle. Consider toxins used in production, chemicals in adhesives or finishes, as well as harmful byproducts used in production or removal. 
Volatile organic compounds (VOCs) are harmful both to the air quality and your health. The Department of Health lists VOCs as a large group of chemicals found in many products we use to build and maintain our homes. Common examples include benzene, ethylene glycol, formaldehyde, methylene chloride, tetrachloroethylene, toluene, xylene, and 1,3-butadiene.
While VOCs are found in things like carpet, vinyl flooring, composite wood products, paint, varnish, caulk, and adhesives, they are also found in everyday items like cleaning products, cosmetics, and gasoline. Once you learn more about VOCs, you can pay attention to everything you bring into your life, making better choices to protect both the air quality and the health of everyone in our communities. 
Is green flooring the right choice for you? 
Is green flooring in your future? Are you trying to make smarter choices with the products and materials you bring into your home? 
A great place to start is by coming in and walking through our product lines. We can point you to some of the greenest, most sustainable flooring choices on the market. 
How can we help you select your next flooring?