According to a recent report by Allied Market Research, the global vinyl flooring market was valued at $20 billion in 2016. But thanks to renewed interest and growing demand, it's expected to rise to $48.47 billion by 2023.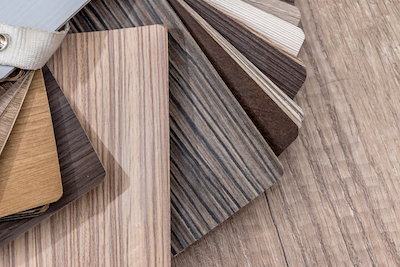 Why is luxury vinyl flooring growing in popularity? One reason: technology. Technology is making vinyl flooring one of the most durable, yet beautiful flooring options in the industry. Also known as resilient flooring, it's earning a reputation as being one of the best flooring choices in both commercial and residential applications. 
It's easy to install.
It can be laid almost anywhere.
It comes in sheets, tiles, and planks, and can mimic any flooring application you desire.
Colors and patterns are virtually unlimited – and it appears more realistic than ever, thanks to technology.
It's low maintenance and easy to care for.
It's budget friendly – it's one of the most economical ways to have great, worry-free flooring.
For all these reasons and more, homeowners and commercial property owners alike are choosing vinyl flooring for its practicality. 
What is luxury vinyl flooring?
When was the last time you looked at vinyl flooring? If it's been awhile, you might be thinking about the patterns and colors your parents used in their kitchens and bathrooms. While traditional vinyl flooring is still available, what's growing even more is the luxury vinyl flooring market. 
This subsection of the vinyl flooring industry has grown out of demand and innovation. As manufacturers reach out to give the public more of what they want, consumers respond by pushing even further. The result is a more advanced product that looks great underfoot. 
Vinyl manufacturers have mastered the art of creating realistic imitations. Technology and printing have made it possible to put anything you desire into vinyl manufacturing, making some of the processes so realistic you have to get down on the floor and touch it to determine what it's made of. And with greater moisture resistance, higher durability, and a more budget friendly cost, it's getting a second look by everyone considering flooring options. 
With design no longer being an issue, it allows manufacturers the chance to test the boundaries of what's possible. They have created many out-of-the-box ideas that consumers are happily choosing and installing. They can be stylish yet functional. Fashionable yet heavy-duty. 
Hard … or Soft?
Hardwood tops the charts of wanted flooring materials. Natural stone has also grown in popularity over the years. Yet both have a problem of being hard surfaces that aren't the best choice in flooring for everyone. Have small children learning to walk? Have elderly family members who are at risk of falling? Risk factors may force you to make other flooring choices. 
Today's vinyl flooring choices are blurring the lines between hard and soft surfaces, between settling for functionality or for beauty. By installing luxury vinyl tiles or planks that mimic hardwood or stone, you'll be able to keep what you love in your decor options while keeping the practical side of you happy too. 
Through technology, flooring manufacturers have mastered the art of creating materials an untrained eye has difficulty seeing the difference. Plus you often have the opportunity of having even more options because through technology, you can create any color, pattern, or style you desire. There is only so much you can do with hardwood and stain. But with a printer, you can create any color of the rainbow. It's especially good for whitewash and lighter wood-look pieces. 
Beyond Aesthetics – Let's Talk Performance
What good is a flooring choice if it scuffs, scratches, and stains within days or weeks of installation? Manufacturers know this. That's why they've worked equally as hard on the looks of vinyl flooring as they have the durability. 
Different companies offer different products with different guarantees. You'll find finishes that help resist stains, scuff marks, scratches, and more. They top the vinyl material with a coating that protects as well as increases for long term performance. 
But it doesn't stop there. While vinyl companies create products you'll be proud to display in your home or office, they also make these new products a breeze for installation. Many come with adhesive already applied to the back. No guesswork on what to use; it comes pre-applied. That makes installation faster and easier, as well as ensuring you can get back to life in the shortest time possible. You'll also spend less on installation costs, as your labor charge will be lower. 
Introducing … Multilayer Flooring
If you have your heart set on wood, yet every ounce of your being is telling you it's a disaster waiting to happen, vinyl might just be your answer. And if you do a little research you're going to come across a new segment in the industry called Multilayer Flooring, or MLF. 
By definition, multilayer flooring is any plank or tile format flooring that is made up of multiple layers of different material assembled together. That definition applies to many of the product in the luxury vinyl industry, including rigid luxury vinyl tiles, and enhanced vinyl planks. 
If it looks like stone or wood, and mimics the core of these two product lines, you might see it referred to as multilayer flooring. 
What people love about MLF is it provides a solution to what didn't work with more traditional vinyl, and laminate flooring. 
It can be installed almost anywhere, with little work to the subfloor.
It's easier to install than either vinyl or laminate.
It's more water resistant – waterproof in some cases.
Plus you can't argue with the look and feel of this product line. Sometimes you peel the adhesive back and press it into place. Or select locking technology that makes installation a snap. 
Either way, you can have your new flooring installed and ready to live within hours – not days or even weeks. 
That can be a big time saver if you want your flooring now. 
So what'll it be? Are you ready to install today's vinyl in your home or commercial location? Are you excited to see what today's vinyl flooring can offer you? Stop today, and see what's in store for your new floors.